Digital Signage Software Solutions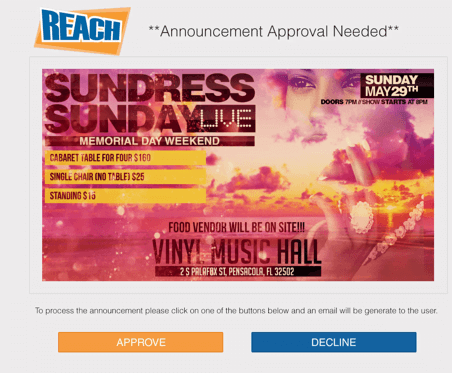 With a wide array of digital signage options, it can be difficult to know which company to choose. At REACH, one of the key things that separates us from our competitors is that we offer digital signage software updates and tech support. Read on to learn more about why ongoing support and updates are so vital to your digital signage solution.
What to Expect When You Work with REACH Media Network
Below are several reasons why customers continue to turn to REACH for all their digital signage software needs:
Unlimited Support & Training – At REACH, we want to be sure that you take advantage of all the amazing features that come along with our digital signage software. To ensure you're using all the available features, our team offers unlimited and ongoing support and training as well as a dedicated Account Manager who you can always contact should any issues arise.
Notification Options – With REACH digital signage software, you have complete control over all user notifications for each user. These notifications include email notifications as well as offline notifications, content approval notifications, newsletter and update communication notifications and much more.
Unlimited User Accounts – With REACH software, you'll be able to setup an unlimited number of user accounts. Each account can have its own set of permissions based on the application(s) and locations(s) they need to access.
Use Digital Signage Across a Wide Array of Industries
Digital signage can be used across a myriad of different industries. Below are just a few of the many industries that utilize our software:
K-12 Schools
Religious Venues
Hospitality
Fitness Centers
If you don't see your industry listed above, feel free to reach out to our team, as chances are high we'll be able to find a solution that will work for your needs.
User Friendly Digital Signage Software
One of the main reasons our customers continue to use our software is because of the ease with which content can be published. Should you ever have any questions when setting up content for your digital signage, feel free to reach out to your Account Manager and we'll do our best to show you exactly how to best utilize our software.
Reach Out for More Information Today
If you'd like to learn more about our high quality digital signage software as well as our top-notch customer support, feel free to reach out by phone at 952-255-6296 or via email at info@reachmedianetwork.com.