Free Digital Signage Software Download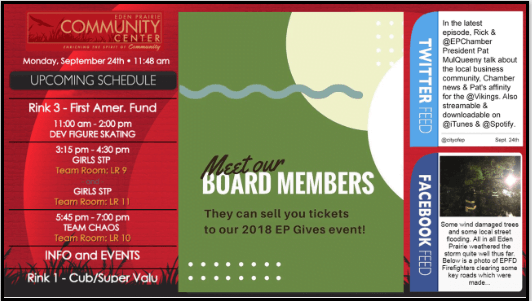 When you partner with REACH Media Network, you not only gain access to our team of experts in the field, but you'll also be able to utilize our free digital signage software. Download our software and easily boost engagement with your content thanks to our best in the industry digital signage.
What You Get With a Free Digital Signage Software Download
When you decide to work with REACH for your digital signage needs, you'll instantly gain access to a whole host of tools and features that are unmatched with other digital signage software providers. A few of these include:
Free Branded Content Management Demo Account – Easily control all of the content for digital signage thanks to our free branded content management software. Within this software you'll also have access to a demo account where you can test out new features to ensure they're ready for your digital signage devices.
Free Use of Widget Options – Our free digital signage software comes equipped with a wide array of widgets that can be easily added to your devices. Simply drag and drop one of these widgets using our content management system and instantly have access to its features. Some of our most popular widgets include custom menu boards, social media integrations, design templates, live streaming content, weather alerts, calendar integrations, traffic alerts and much more.
Free Stock Photos and Automated Content – At REACH we understand that most of our partners aren't professional graphic designers, but still want their digital signage to look attractive. This is why we offer a range of free stock photos and automated content that will ensure your digital signage is eye catching for your viewers. Our automated content allows you to have real time updating feeds that ensure information is quickly disseminated to your target audience.
Free Technical Support – At REACH we want to build a lasting relationship with each of our partners. One way that we try to do this is by offering free technical support. If you run into any issues with our software, or if you're just looking for design help, don't hesitate to reach out to our team.
Level Up Your Digital Signage With REACH
If you're finally ready to either add digital signage to your location, or upgrade your existing digital signage software, the time is now to give the team at REACH Media Network a call. We'll be happy to offer a free demo where we can show you what you're missing without our easy to use software. Give us a call today at 952-255-6296.