7 Ways to Use Digital Signage for Corporate Communication
7 Ways to Use Digital Signage for Corporate Communication
Introduction
Digital signage software is disrupting the way corporations circulate information to their staff. Cloud technology allows for real-time updates and dynamic content that traditional media cannot provide. This ensures employees are provided the information they need to work efficiently. Additionally, proper implementation improves morale and productivity around the office. Looking to try digital signage out yourself? Click here to get started!
7 Ways to Use Digital Signage for Corporate Communication
Employee Recognition – Boosting Morale
One of the easiest ways to boost morale around the office and improve productivity is to recognize the achievements of your employees. Whether it's a work anniversary, birthday, or highlighting a certain achievement, propping up your staff demonstrates appreciation for all their hard work. As a result, other employees are also encouraged to work hard. Additionally, it also shows that a company is paying attention to the efforts and needs of its staff, allowing employees to feel connected to their organization.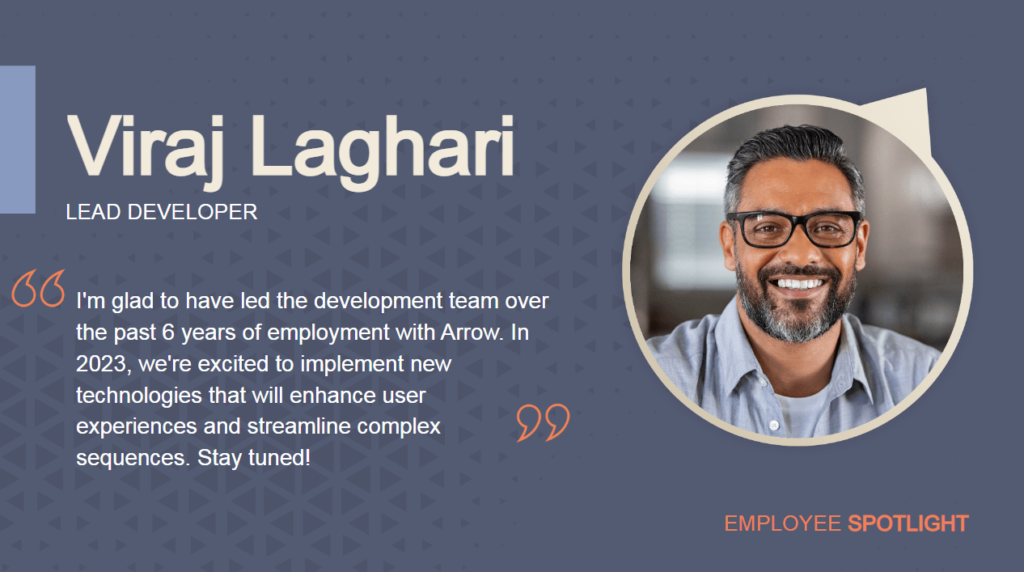 Social Media – Getting Involved
Many companies utilize internal social media platforms like Slack or Workplace to communicate with their staff. Displaying these platforms through digital signage is a quick way to share information across a facility. This reduces confusion and improves productivity. However, it does not have to be all business! Posting staff vacation stories, employee cookouts, and other team-building activities go a long way toward building a positive workplace culture. User reviews or positive feedback posted on company timelines can uplift your staff by showing the impact of their work. Ultimately, integrating social media expands your digital footprint and makes your team feel more connected.
KPIs & Metrics – Staying on Task
Integrating KPIs and other corporate metrics provides crucial information your team needs to meet their objectives. For instance, PowerBI is a Microsoft-powered platform that allows for the creation and display of data sets, spreadsheets, KPIs, and other infographics. Displaying this type of information is helpful for staff, as this information can provide insights that change your current strategy. Additionally, integrations with other Microsoft and cloud applications make it a flexible service. As a result, your team can see a major boost in efficiency and communication.
Calendars/Schedules – Looking Ahead
You likely host dozens of meetings, conferences, and other events every week, on top of the many deadlines you have to meet. This can result in a pretty hectic working environment. Therefore, integrating calendars and schedules into your layouts will help your staff stay up to date on important dates and events. This can help prioritize certain projects, or even encourage people to work ahead on some deadlines. The result is an improvement in planning and performance across the board.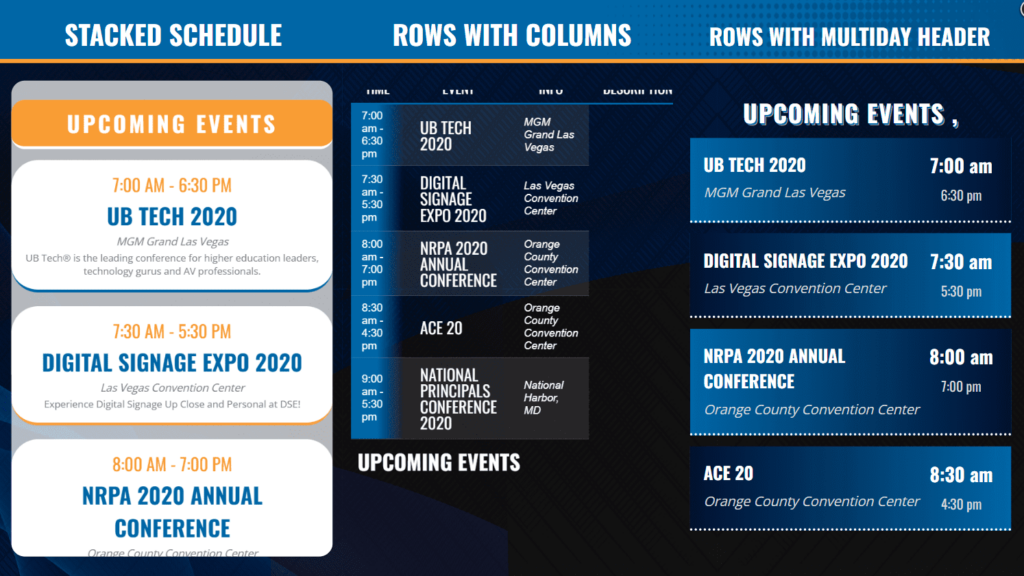 Safety & Trainings – Staying Sharp
Above all, the safety of your employees should be the highest priority. Digital signage is a great way to quickly post safety guidelines and reminders. Employees can use these to hold each other accountable as well, creating a workplace that values safety and cooperation. Displaying safety information demonstrates a real concern and interest in the well-being of your staff, which in turn strengthens their attachment to your company and motivates them to continue working efficiently.
Wayfinding – Finding your Way
Larger campuses can be confusing for employees and visitors to navigate alike. Thus, alleviating this stress through digital wayfinding tools ensures people get where they need to go, fast! Directories can guide people exactly where they need to go, and layouts can be filled with supplemental content. As a result, you would be presenting a useful service through digital signage while still communicating other topics.
Values & History – Celebrating your Legacy
Sometimes, people need a reminder of what exactly it is they are working for. Including designs reiterating your core values motivates staff to live up to the standards set by the company. Doing so can provide a sense of focus and clarity for employees, as they can refer back to these values if they need some guidance. These tactics can improve unity amongst your company as it contributes to a shared sense of working together. Similar results can be achieved by presenting customer reviews or client feedback on your displays. Positive reviews show your employees that their work matters and encourage continued excellence.
About REACH
REACH acts as both a hardware and software provider for digital signage. When you partner with REACH, you join a network of industry professionals committed to your success. A strong belief in evolving technologies runs throughout the company, resulting in robust digital solutions. To begin your digital signage journey, click the button below to request a free demo from REACH today!