How to Set Up a Digital Reader Board Display
What is a digital reader board?
Digital signage reader boards are a type of digital signage that displays real-time information such as news headlines, weather updates, sports scores, financial information, and social media feeds. They are commonly used in public spaces such as airports, train stations, stadiums, and shopping malls to provide up-to-date information to visitors.
TV reader boards typically consist of one or more large screens that display scrolling or static text, images, and video content. They are designed to be easily readable from a distance and can be customized to match the branding and design of the location.
Digital sign reader boards are commonly used for information dissemination, wayfinding, and advertising. In addition, they can be updated in real-time, making them an effective tool for emergency alerts and public safety messages.
Reader boards can be controlled using various software and hardware solutions, including cloud-based content management systems and media players. To create a comprehensive digital signage network, they can also be integrated with other digital signage displays and devices, such as kiosks and interactive displays.
How to set up a digital reader board
Setting up a digital reader board is as easy as one, two, three…well three things you need that is! To get started, you will need:
From there, your digital signage provider will handle the installation process. With a digital signage provider like REACH, you can even use your own hardware and displays! However, we recommend using BrightSign players for the most reliable results.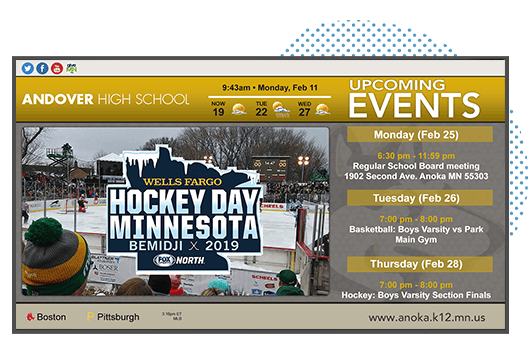 Reader screens for digital signage provide several advantages, including the following:
On-the-fly changes
Digital signage reader boards can display real-time information such as news headlines, weather updates, and feeds from social media. This helps to keep tourists informed and up-to-date with current events.
A better way to share information
Disseminate time-sensitive and vital information as well as warnings efficiently and timely.
Reach your targeted audience
Increased engagement can be achieved by designing aesthetically appealing and eye-catching. This draws the attention of visitors, which in turn leads to increased engagement.
Save Money
Cost-effective than traditional bulletin boards because they can be easily updated and customized without additional printing or installation expenses. On the other hand, traditional cork or bulletin boards need to be easily updated or customized.
Unlimited Messaging Options
Because the content can be changed anytime, you can set up rotating news feeds, company updates, event schedules, and more!
About REACH
REACH acts as both a hardware and software provider for digital signage. When you partner with REACH, you join a network of industry professionals committed to your success. A strong belief in evolving technologies runs throughout the company, resulting in robust digital solutions. To begin your digital signage journey, click the button below to request a free demo from REACH today!