Feature Rich Alternative to Tightrope Carousel Digital Signage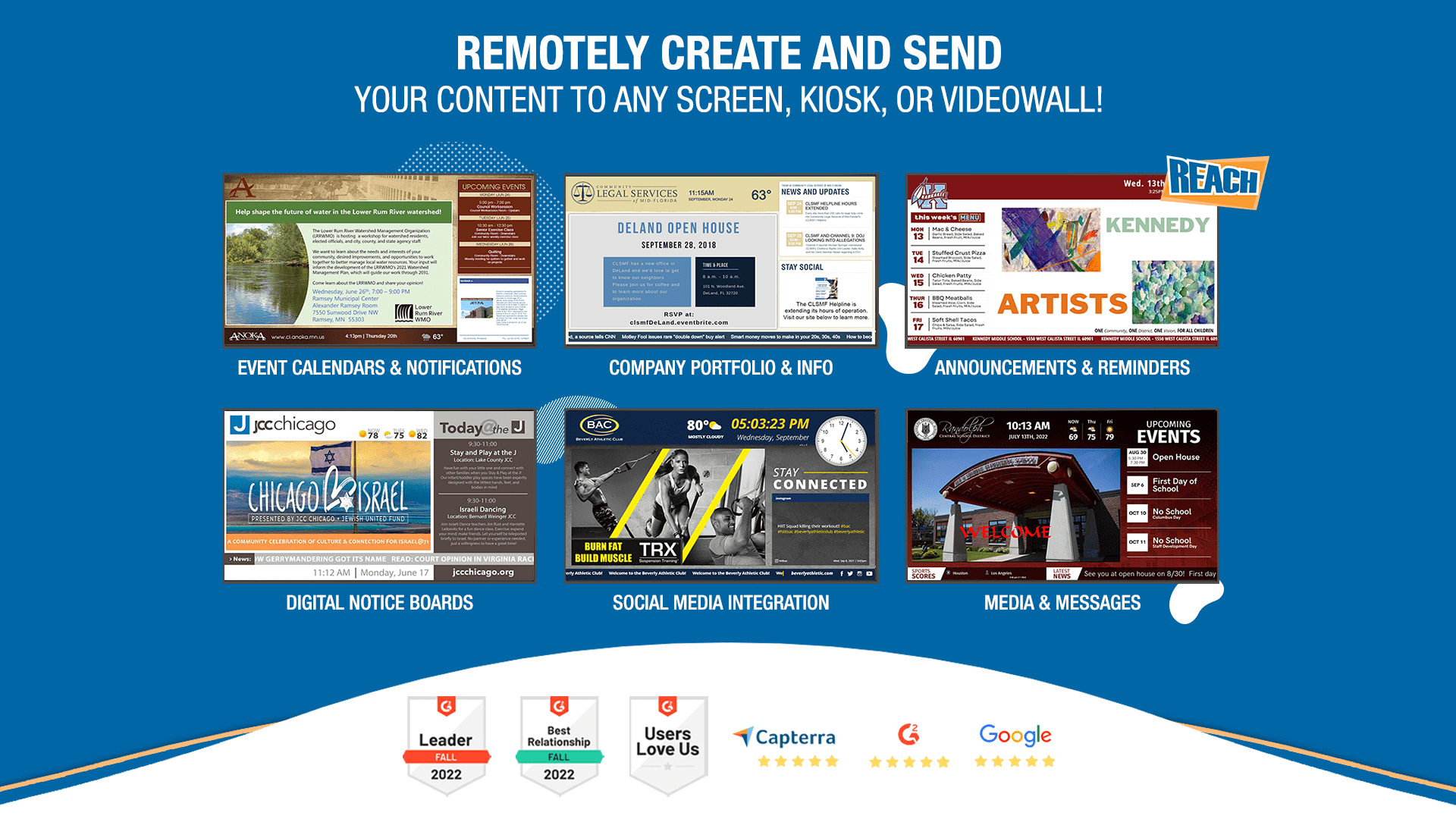 Do you want to replace Tightrope Carousel Digital Signage with a trustworthy and effective digital signage service? If so, you've found the perfect alternative to Tightrope Digital Signage. For over 17 years, REACH Media Network has been an innovative, privately owned company specializing in digital signage software!
So, we can offer you an alternative to Carousel Digital Signage that is built on a seasoned, stable digital signage software platform without having to answer a board of investors or change the quality of our product.
Please look at our six target markets if you have a specific need:
Tightrope Carousel Digital Signage Software Alternative
Don't keep looking; here's an excellent alternative to Carousel Digital Signage. First, we host our digital signage software in the cloud for remote management of your screens using our unique design tools. Next, you can quickly send high-quality content from anywhere to your displays using our unified digital signage software tools!
Customizable Layouts with Apps!
REACH comes with more than 157 free customizable digital signage apps. It's easy to make dynamic and engaging content that consists of any combination of media zones. Popular apps include:
SharePoint and Microsoft One Drive

HTML Pages

PowerPoint Excell and Word

Power Bi and Metrics

Live Traffic Radars

National Weather Alerts

O365 and Google Calendars

News and Stock Feeds

Emergency Alerts and Notifications

Work Anniversaries and Birthdays

YouTube and Vimeo 
Automate How You Display Your Metrics and Data
Integrating REACH's digital signage solution with your existing platforms (like metrics dashboards, spreadsheets, tables, calendars, event listings, and so on) is a simple and quick way to get information to more people. For example, this kind of digital signage integration means you don't have to update a spreadsheet by hand.
By syncing your data and content, we can make it easier for APIs, charts, and your organization's key performance indicators (KPIs) to be shown in real-time.
Things like O365, POS data, and reports are examples of third-party platforms that work well together.
Flexible Hardware Options
Whether you want to buy a new media player for digital signage or already have one, you can use REACH. We don't care about what kind of gear you're using. Anyone can use our software.
REACH can help you find digital displays or hardware that fits your needs and budget. We also sell reliable, easy-to-set-up digital signage players.
If the network goes down, our software will ensure that the cached content on the digital signage media player doesn't go dark. If the power goes out, you don't have to worry about your screen being unreadable. Even if the image quality could be better, the REACH program will always give you enough to work with.
Enterprise Multi-User Digital Signage Management Control
Digital signage networks with more than one user or location can use SSO (Single Sign On). With these setups, it's easier and faster to set up and manage users.
Staff can use enterprise-grade cloud applications linked to the IdP through SSO, which only requires one login, making it easier to track who can use which SaaS programs are in the cloud. REACH also requires SAML 2.0. So, all primary identity providers can use the platform (Security Assertion Markup Language).
REACH works with SAML2 Identity Providers like Shibboleth, OKTA, and ADFS. Another service is Azure Active Directory (AAD). After setting up SAML2-based SSO, we'll give the customer a URL to use every time they sign in to the REACH system. After giving their username, users also have the option of having the REACH system start SSO-mediated login for them (often an email address). This is a choice that users can make. REACH also has an interface for LDAP-SAML2.
Conclusion
If you need clarification on whether we're the best replacement for Tightrope Digital Signage, please sign up for a demo or ask for a free 30-day trial. This will let you test our digital signs for yourself and, more importantly, help you decide if we meet your needs.