Prepare For Spring With Fresh Digital Signage Apps 
PREPARE FOR SPRING WITH FRESH DIGITAL SIGNAGE APPS
A NEW FORM OF SPRING CLEANING
Winter is coming to a close, which means when it comes to updating traditional advertising methods, it's time to head back to the bulletin boards….
…or is it?
With digital signage, you'll never have to leave your desk to update a poster again! Through cloud-powered technology, digital signage lets you edit your promotional material from anywhere so long as you have an internet connection. Not only that, but REACH's robust digital signage software for businesses comes packed with various apps and integrations. With that in mind, let's dive into some useful tools that will add utility to your advertising during the season. Click here to get started, today!
The weather can get a little crazy during springtime. One day, you could be out enjoying the sun. The next, you're caught in the middle of a hailstorm! Thankfully, you can help your viewers prepare for such challenges with National Weather Alerts.
Our National Weather Alert function is set to display on signage whenever there is "moderate" severity in weather. Moderate severity is considered any weather that could pose a threat to life or property, and many weather warnings or watches would be considered "moderate."
Through the app, you can set it up to be as broad or specific as you want. For instance, you can have it monitor weather across the entire state, just to your county, or even to a specific zone. Once triggered, the alert will take over the entirety of your screens to warn viewers of the impending weather.
However, if you just want to display the current weather or radar alongside your usual promotions, normal weather, and radar apps are available as well. Including some form of forecast in your signage provides an easy reason for your audience to return every day. As they're checking the weather, they can be introduced to your other announcements! Providing a degree of utility to your signage will also add some credibility to your business, as people will deem your signage as a reliable source of information.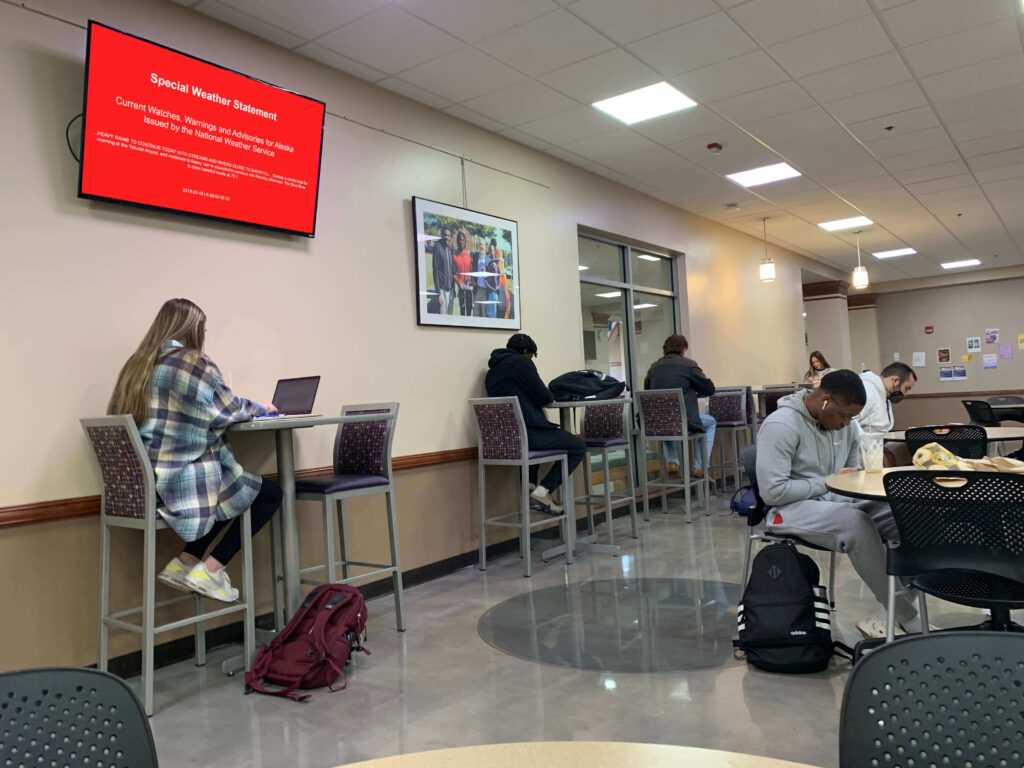 Emergency Alerts are extremely similar to national weather alerts. In fact, they're set up in the same section of our CMS! Emergency alerts will take over the entirety of your screens in order to display an emergency message. These alerts can then be customized in order to provide your audience with instructions, reassurance, and other safety resources. While viewers won't see this type of messaging on a daily basis (or hopefully, ever!) it is important to ensure the safety of those visiting your facilities. Doing so establishes your business as trustworthy and caring of its clients.
NEW MONTHLY PLAYLISTS
These are all well and good, but now let's get into some fun stuff! Every month, REACH publishes fresh stock photos for clients to use for free in any of their layouts. Not only that, but multiple templates are available as well to help you quickly format your designs. This can help get your content off the ground, and aid in creating quick assets. Paired with a user-friendly interface and the ability to upload your own assets as well. Digital signage makes content creation easier than ever while avoiding those pesky printing fees and saving you time on having to physically travel to each location.
GET STARTED, TODAY!
It's never too late to start your digital signage journey! REACH acts as both a software and hardware provider, so we can set you up with everything you need to get started. Our software is also "hardware agnostic," meaning our software can play on most digital media players! If you even have a Fire TV Stick or some other player, you can start creating beautiful digital displays.
Click the button below to request a free demo and see how your community can benefit from digital signage solutions!