Frostburg State University Revamps Communication With Digital Signage
FROSTBURG STATE UNIVERSITY REVAMPS COMMUNICATION WITH DIGITAL SIGNAGE
Background
Frostburg State University is a higher education facility found in the small but tight-knit community of Frostburg, Maryland. Serving around 3,500 undergrads a semester along with a variety of graduate programs, Frostburg State requires strong communication software to maintain its sense of culture and empower learning. Such a necessity requires a powerful communication system that allows the school to disperse information quickly. Since the university is a smaller campus compared to other institutions, being able to control the school's messaging from one centralized location was a major requirement for upgrading its communication methods. From there, Frostburg State would be able to expand its potential with more creative use cases and tailored content. Looking to implement digital signage on your campus? Then click here to get started!
The Challenge
Before signing with REACH, Frostburg State University used an alternative signage solution to display basic announcements and PowerPoint slides. In order to expand its digital signage initiative, FSU needed an affordable solution that still gave them access to enterprise-level software. This would allow them to integrate calendars, announcements, and other content from their previous solution as well as its own proprietary software. REACH's software was even "hardware agnostic," meaning FSU could use the hardware it already had on hand for it digital signage. All this made it clear the current solution would be inadequate for the growing demands of the school. After conducting a cost-benefit analysis, FSU joined REACH to begin implementing robust digital displays that would elevate the campus experience. Once the infrastructure was place, it was time to begin generating content that addressed certain pain points the school was facing.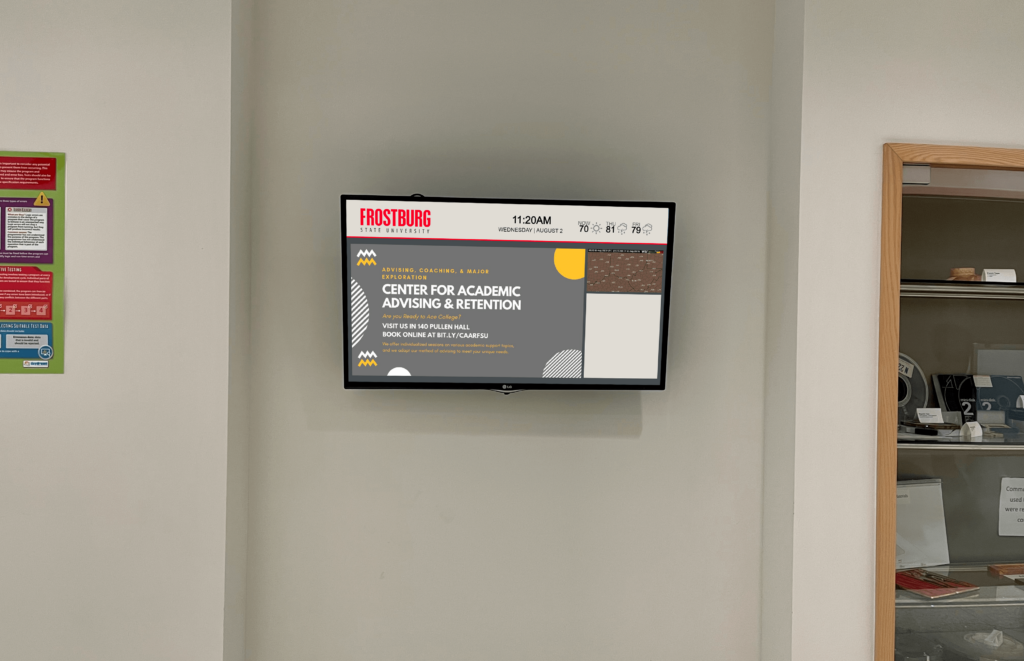 The Solution
Since partnering with REACH, Frostburg State University has expanded its digital signage with plans of future growth. With their current solution, FSU is now able to push content to multiple screens at once from a central location. This means as long as they have an internet connection, staff can update announcements to signs across campus. Therefore, some of this content can even be tailored based on its location. For example, FSU employs NASA and other astrological content around its planetarium. Digital menu boards are used in cafeterias and dining areas to cue students into special items, dining plans, promotions, and so on. In some instances, interactive touchscreens are even being used to give prospective students digital tours and guides of the school. Also, to ensure the safety of each person on campus, displays are equipped to switch to emergency signage should such an event come up. This will provide students with information and instructions to ensure their safety. FSU even leverages its signage solution to educate students on digital marketing and advertising practices, using security permissions to sign students up as users in certain marketing practices. This gives students hands-on opportunities to engage with digital signage that can be applied in future occupations! Hence, Frostburg State University gives a holistic view of the power of digital signage in the education space.
The Results
Since implementing its revamped digital signage solution, FSU students and staff alike have been more involved with the school. The school hosts a news show that now gets more eyes on it since being displayed through signage. Additionally, weather and other supplemental content, such as social media and news integrations, keep students informed on important events and trends. This also expands FSU's digital footprint and ensures it can reach its audience both on and off its screens. As a result, the school has created a comprehensive solution where students always know where to go for reliable information.
Testimonial
"We were a little fish at the time, so it was nice finding a business model that worked for us!"
Brian Wilson, IT Analyst/Support Specialist at Frostburg State University
About REACH
REACH acts as both a hardware and software provider for digital signage. When you partner with REACH, you join a network of industry professionals committed to your success. A strong belief in evolving technologies runs throughout the company, resulting in robust digital solutions. Learn more by clicking the link below!