4 Pillars of Enterprise Signage You Need to be Successful
4 PILLARS OF ENTERPRISE SIGNAGE YOU NEED TO BE SUCCESSFUL
BUILDING BIG THINGS
Some large-scale businesses require more large-scale solutions. Thankfully, enterprise digital signage is a flexible communication tool that can be scaled to your needs. From here, you can employ a variety of multimedia content such as images, videos, charts, and other pieces of informational material. How you ultimately build your content is up to you, and each screen can be controlled from a central location. This even applies to other facilities. For instance, if you have locations based in California and Nevada, you can update both displays in real-time. As a result, each screen can be tailored to accomplish different communication goals and target different audiences. However, there are a few key tactics to keep in mind to be successful in your enterprise signage. The 4 pillars of success in this article will help get your strategy and content off the ground. If you're looking to try digital signage out yourself, click here to get started!
ENSURE YOUR SOFTWARE AND HARDWARE WORK IN TANDEM
Obviously, the first thing you will have to sort out is what kind of hardware and software you should employ. Thankfully, the software part is already done for you…because the answer is REACH! REACH's content management software has the tools you need to accomplish any of your goals. Even advanced options such as website embedding, weather radars, Google Earth, and other integrations can all be shown through your layouts. However, to utilize these apps effectively, you'll need proper hardware. While REACH's software is "hardware agnostic," meaning it can be used on any media player, certain players are capable of more functionality than others. For example, BrightSign players are known to be some of the most powerful and reliable on the market. If you want to ensure that you will be able to use your software's entire suite of apps without risk of failures, BrightSign is your best bet. Additionally, REACH is both a software and hardware provider, meaning we can completely handle your installation process.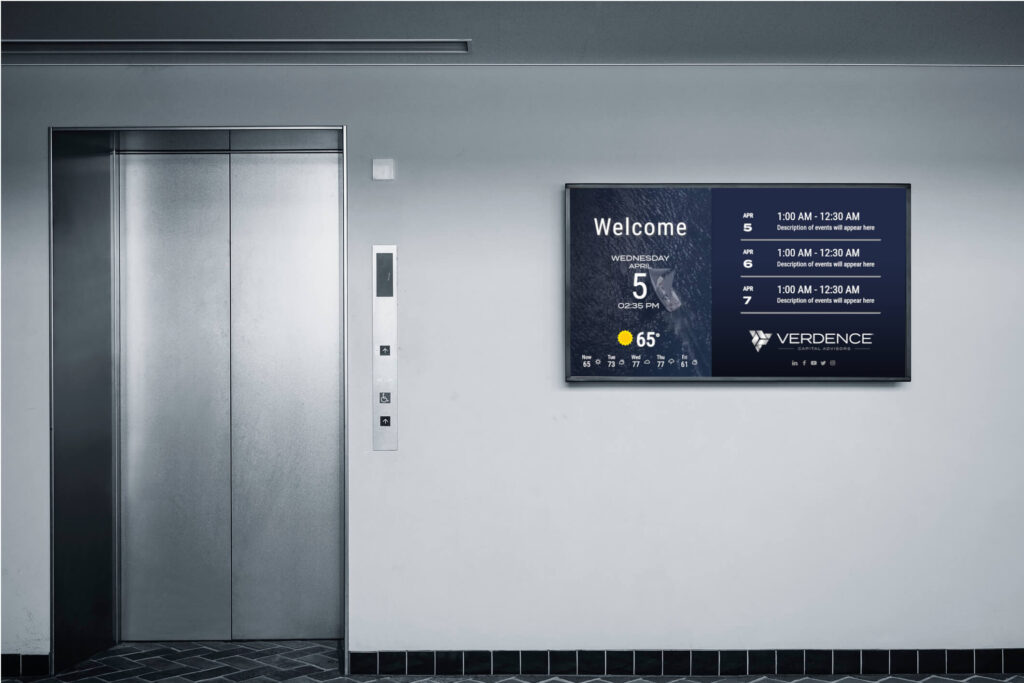 Regardless of what software or hardware you ultimately end up choosing, it's important to check that the player you plan to use works in tandem with your platform. This saves time and money in the long run as you will not have to go back and forth testing different solutions. Instead, you can use that time to more effectively test content and assets. This makes your workflow more efficient and encourages more creativity. As a result, staff will perform better for extended periods of time.
DEVELOP A SOUND CONTENT STRATEGY & START BUILDING
Once the installation process is complete, it's time to start building content. Well, almost. As with any other marketing endeavor, a strong content strategy is essential to get the most out of your digital displays. There are many factors that come into play when creating a strategy. Before building your content, ask yourself these questions:
Where will my displays be located?
What will be on each display?
Who will be looking at these screens?
What is my purpose for installing these screens?
What type of screens will be used?
What content is appropriate for each screen?
Do we want interactive elements?
Why do people come to us for business?
These questions will help you determine the content you need for each display. As stated previously, each screen can host different content. Hence, it's important to consider the costs and benefits of having different content on certain screens. Traffic volume in the area can also affect what content you decide to display. Once you have assets built, they can be shared between facilities and users to keep your messaging consistent.
TRAIN YOUR TEAM UP
So you have your equipment, your strategy is all planned out, and now it's time to get the rest of the team involved. Training new users on how to use your digital signage platform can be an arduous task. Familiarizing yourself with new software can already be overwhelming, let alone teaching others. Thankfully, REACH offers free training and routine checkups to make sure your team is up-to-date on the latest features and changes. This takes the pressure off your organization to train its staff and allows them to focus more on the tasks at hand. Of course, these can be scheduled on an "as needed" basis as well, so you are not inundated with training.
STAY INVOLVED
After everything is in place, the only thing you have left to do is stay involved in your signage! This means updating screens, checking content, refreshing players, editing security permissions, and so on. Being involved in your signage prevents issues from cropping up, and allows for quick solutions when they do. In addition, it increases your knowledge base which can be used in future campaigns!
ABOUT REACH
REACH acts as both a hardware and software provider for digital signage. When you partner with REACH, you join a network of industry professionals committed to your success. A strong belief in evolving technologies runs throughout the company, resulting in robust digital solutions. To begin your digital signage journey, click the button below to request a free demo from REACH today!