Digital Signage Software | Over 250 Content Apps Data Integrations | Why is it free?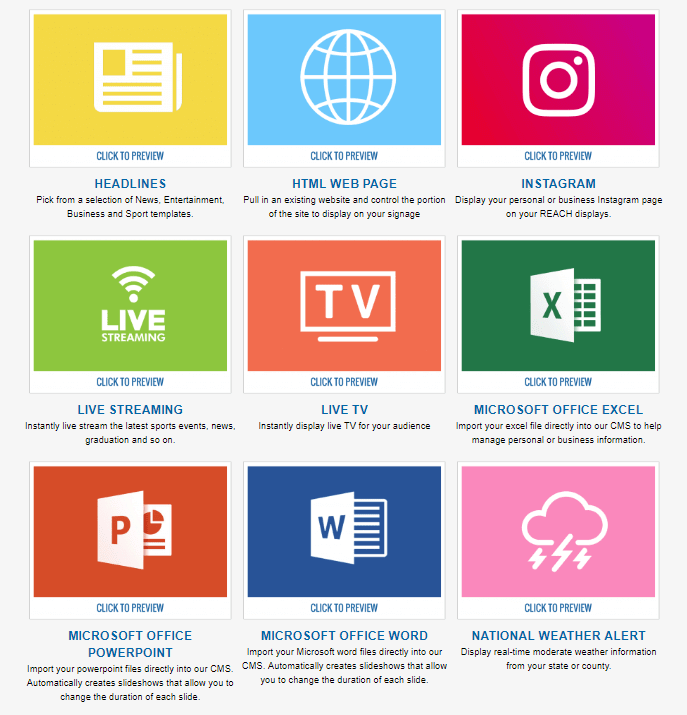 When it comes to finding digital signage software for your organization, we realize that you have quite a few choices. However, we're confident that few of our competitors are able to match the feature set that's available when you choose to utilize our free cloud based digital signage. You may be asking yourself, why is it free? The primary reason is that we're always striving to provide the highest level of service to our partners and one way to do this is by offering software that's constantly being updated with the latest features that are critical to your organization.
What Differentiates REACH from the Competition
There are countless ways that we go above and beyond to meet or exceed the needs of our partners. One of the primary ways we're able to provide such impeccable levels of customer service is due to our feature packed digital signage software. Below are just a few of the key differentiators of our free digital signage software compared to some of our competitors.
Extensive Library of Free Content Apps & Data Sources – When you use our software, you not only have access to our easy to use content management system, but you also instantly gain access to over 250 digital signage apps and data sources. This allows you to easily add interactive elements to your digital signage.
Dynamic Content Saves Time – By utilizing our free content apps that auto populate, your team can easily display dynamic content that will not only keep your screens fresh, but will also cut down on the amount of time your production team has to spend creating content.
Integrate with Your Custom Data Feeds – Do you have third party tools that you use? If so, wouldn't it be great to display key corporate data such as revenue goals and KPI's on digital signage? With REACH this is all possible thanks to our ability to interface directly with many third party tools for free.
Contact REACH to Learn More About Our Free Digital Signage Software
If you're ready to up your digital signage game plan a bit, the time is now to give REACH Media Network a call. We can chat with you about your goals and show you how digital signage can be an integral component of your company's growth. Feel free to call us anytime at 952-255-6296. We'll be glad to go through a free live demo of our software with you to show you first-hand what separates our digital signage software from the competitors.