The Ultimate Introduction to BrightSign Players
The Ultimate Introduction to BrightSign Players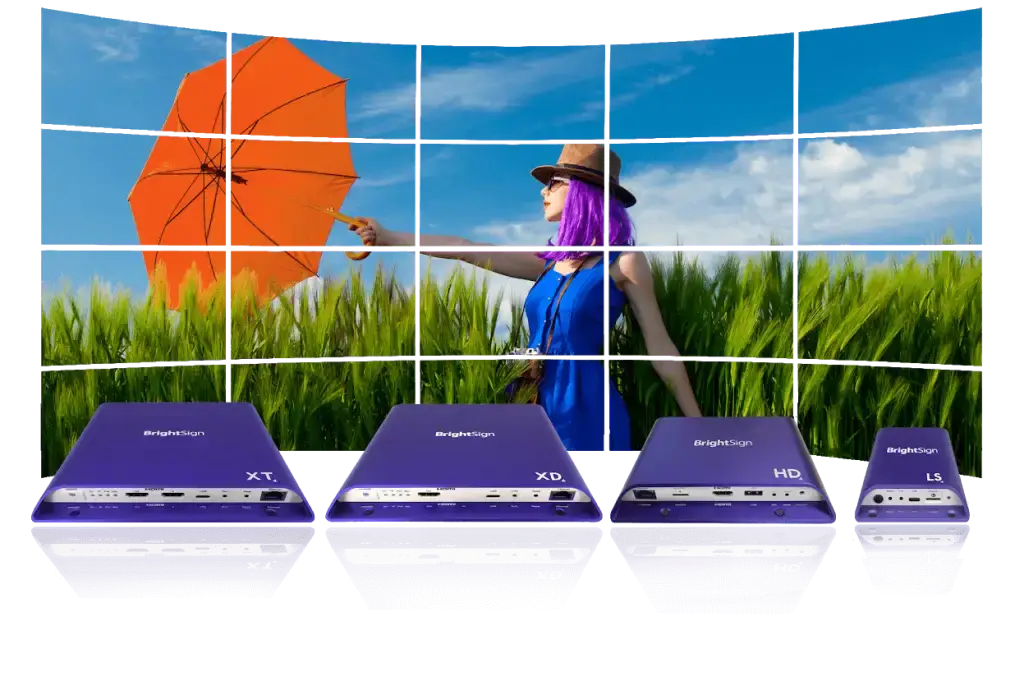 BrightSign digital signage players are acknowledged for their consistent performance over time and their high dependability, which positions the company as a front-runner in the market for low-cost media players. So what is it about BrightSign features that differentiates them from other companies that manufacture digital signage media players?
BrightSign Players
Although BrightSign is primarily a hardware manufacturer, the firm places significant importance on ensuring digital signage content may be driven by its products. The emphasis here is mainly on the hardware.
When it comes to creating digital signage content, design and the software used for digital signage are just as crucial as the technology itself. When you build the content, the BrightSign hardware will only receive and play back that content because it was designed specifically for it. Always remember that a powerful digital signage software hosted in the cloud is an absolute must set up digital signage that is media-centric.
BrightSign media players have established a firm name in the market for media playback due to their consistency and fluidity in the playing of media. In addition, BrightSign is an easy-to-use software solution that enables the management and generation of material in its most basic form.
BrightSign Network subscribers can view and administer content on the BrightSign BSN.Cloud platform, but this service comes at a cost. Because it is the king of the digital signage world, you need to perform exhaustive testing on the software used for digital signage. This software is used to control and update the content of digital signs.
What is the BrightSign Network?
BrightSign is the provider of a cloud-based digital signage subscription service known as the BrightSign Network. It incorporates components such as BrightAuthor, BrightPlates, and the BrightSign network.
BrightPlates
BrightSigns BrightPlates is a website that operates on a subscription model and gives users access to a library of digital signage templates that may be modified following their specific needs. A subscription to the BrightSign Network is required for you to make use of BrightPlates. The templates allow for the editing of not just text but also photographs and videos. The configuration is fixed and cannot be changed in any way. As a result, it is possible to locate design templates that are suitable for a wide variety of applications.
BrightAuthor
BrightAuthor is BrightSign's take on the market for digital signage software platforms, and it is known as BrightAuthor. Through the intuitive user interface, even the most essential content for digital signage may be generated. In addition, the restricted media design functions include basic widgets that allow for creating and uploading content using the BrightAuthor CMS interface.
After creating the content, a playlist may be set to automatically play at a specific day and time by using a scheduling tool. The playlists will subsequently be able to be received by the BrightSign media players. In addition, you can distribute content locally using SD cards or send updates via the BrightSign cloud service. Both options are available to you.
If you need to keep a check on your digital signage players while performing fundamental administrative responsibilities, you can do so.
Downside of BrightAuthor
Although the BrightSign players are great, their BrightAuthor digital signage software is somewhat limited with customization of your content and what can be displayed. For hardware, yes, we suggest BrightSign, but if you are looking for feature-rich, reliable software, we recommend going with a company that specializes in digital signage software.
Limited when it comes to the free-form design of your template.
Zone-based setup that will not allow for drag and drop control of your media
Minimal library of starter templates
Free training and support is NOT INCLUDED
Advanced database integrations is NOT SUPPORTED
Conclusion
BrightSign Network is BrightSign's implementation of digital signage hosted in the cloud (now named BSN.Cloud). However, because of its limited capabilities and features, it does not have the best interface in terms of user-friendliness. At its center is the hardware manufacturer BrightSign. BrightSign, on the other hand, focuses less on developing software for digital signage and more on developing and manufacturing digital signage players that are dependable and robust.
When it comes to your digital signage, the most important factors are the content you display on it and the software that manages it. Therefore, before settling on a choice, it is vital to do an exhaustive analysis of the digital signage software employed in keeping the BrightSign or any other digital signage media player up to date.