Digital Signage & Live TV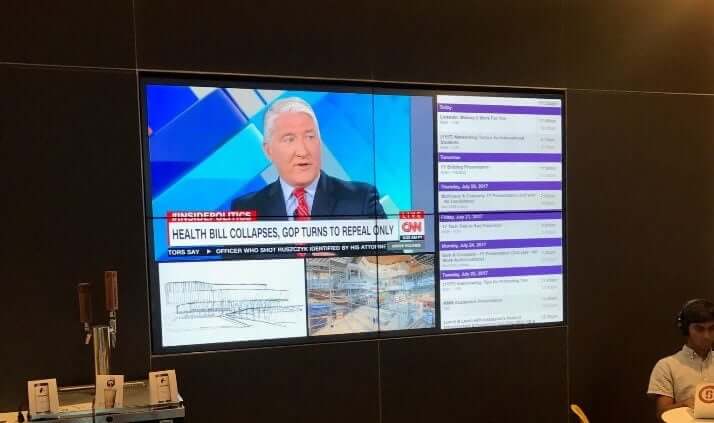 Is your facility already utilizing digital signage? If so, you likely know the many benefits that digital signage can have for your facility. One way to make your digital signage even more effective is to stream live TV along with other content. This way you can really engage your viewers to ensure they're paying attention to your digital signage wherever they may be located in your facility. At REACH Media Network, we offer a variety of ways that you can stream live TV through your digital signage.
How to Embed Live TV into Your Digital Signage
Thanks to our cloud based digital signage software, embedding live TV into your digital screens is as simple as adding any of our many features. At REACH Media Network, we currently support two different options when it comes to streaming live TV, which we'll explain in more detail below:
Brightsign XT1144 Player Option – We offer support for the Brightsign XT1144 Player Option which allows you to pull content from any cable box and place it inside one of your digital signage zones with ease.
HLS Live Streaming – We also offer support for HLS live streaming which allows you to input the URL of a live streaming feed into our cloud based digital signage software. You may not realize it but most live streaming content online has a URL that can be inputted into our software and easily be displayed on your digital signage.
Why Stream Live TV to Your Digital Signs?
There are countless reasons why it makes sense to stream live TV to your digital signage, a few include:
Keep up with Current Events – Whether your digital signage is in a retail setting, a school or a business, live TV allows viewers to stay up to date on any of the latest breaking news. Many of our customers will stream a 24 hour news network such as CNN, CNBC or MSNBC to allow viewers to constantly stay abreast of the latest major news developments happening across the world.
Entertain Customers – If you have a facility where you have a waiting area, live TV can be a great way to pass the time as people wait to be seen. Many medical offices will invest in digital signage with live TV so that they can feature information about some of their services alongside live TV content.
Ready to Learn More About Combining Live TV and Digital Signage?
If you're interested in learning more about adding live TV to your digital signage, feel free to reach out to our team today by phone at 952-255-6296.