Digital Signage Tips & Tricks To Make Your Signage Bloom
DIGITAL SIGNAGE TIPS & TRICKS TO MAKE YOUR SIGNAGE BLOOM
SUNNYSIDE SIGNAGE
Spring is officially here, and it's time to make sure your digital signage reflects that. Having content left over from winter can leave your audience feeling cold.
 Introducing a fresh set of assets and announcements gives your viewers a reason to return and see what's new. Not only that, but a fresh coat of paint gets people excited about your signage while also adhering to the theme of the season! With this in mind, let's look at some tips and tricks you can do within REACH's CMS to help with some digital signage "spring cleaning." Don't have digital signage but looking to get started? Click here for a free demo!
GROUP PLAYLIST ITEMS TOGETHER
One of the newer features we've added to the playlist tool is the ability to group playlist items together. When grouped together, the items within the group will play back-to-back in a linear fashion, while everything outside that group will play according to the timeline setting within your layouts.
Grouping playlist items together is good when you have multiple related items. If you have a longer message you need to get across multiple slides, this is an excellent way of reducing playlist clutter. Not only that but groups can be set to "inactive" in order to disable them temporarily while your other content plays normally. To group items, simply open a playlist, select the items within the playlist you want to be grouped, then press "Group Items."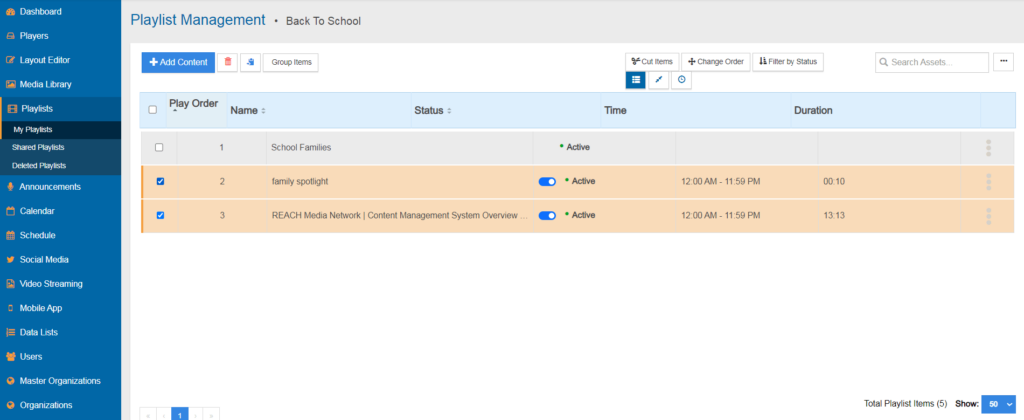 TAGGING ASSETS
Another way of organizing assets within your media library is to tag them. Tagging items will make them easier to find through the systems search function and can help you categorize your content.
This will make it easier to find and repurpose older content, resulting in a faster, more streamlined workflow. Your media library can then be set to display only assets with that specific tag for even easier browsing. You can add tags right from the media library by selecting an asset and adding tags from there. A drop-down menu will also appear where you can quickly add previous tags.
BULK ADDING CONTENT
Once you have your assets built and organized, it's time to put them in playlists for display. In the playlist tool, you can bulk-add items to each of your playlists. Hence, if there's a piece of content you want to be played on multiple screens but do not want to entirely change the content of each screen, this allows you to do so. To get started, you simply need to head to the playlist tool and select which playlists you want to add the asset to. From there, simply click the "Add Content" button. This will bring up a condensed version of your media library to choose assets from.
GET STARTED, TODAY!
It's never too late to start your digital signage journey! REACH acts as both a software and hardware provider, so we can set you up with everything you need to get started. Our software is also "hardware agnostic," meaning our software can play on most digital media players! If you even have a Fire TV Stick or some other player, you can start creating beautiful digital displays.
Click the button below to request a free demo and see how your community can benefit from digital signage solutions!