Total Guide to BrightSign for AV Integrators
Total Guide to BrightSign for AV Integrators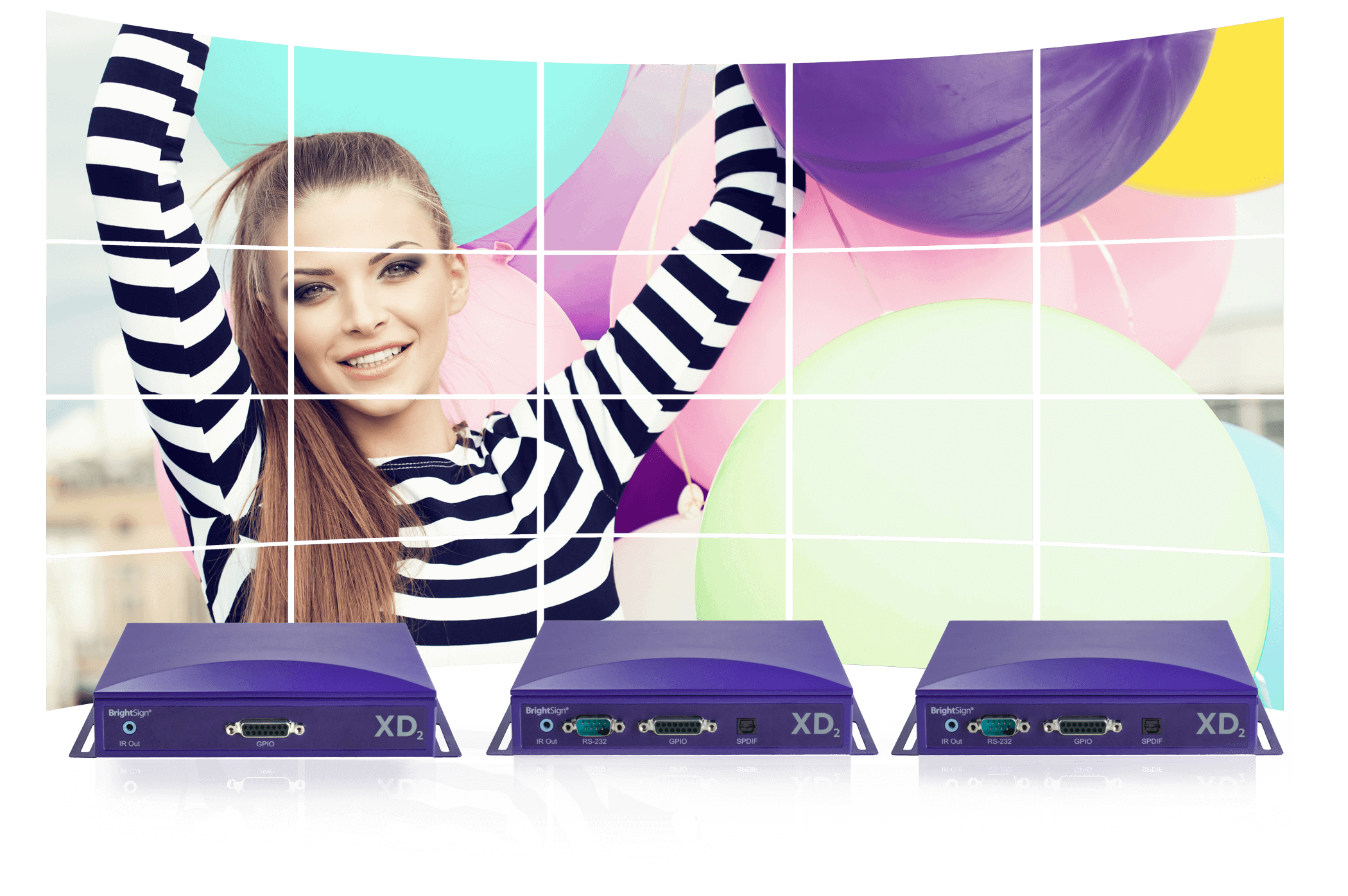 Getting Started with BrightSign Players
The key to any successful digital signage campaign, is having hardware you can rely on. A good digital signage player ensures your message is displayed without having to deal with technical hiccups. BrightSign players are known as the most reliable players on the market that have a variety of advanced features that can meet all your business needs. When paired with REACH's content management software, your digital communication efforts can be taken to the next level.
The advanced streaming capabilities of BrightSign media players allows you to fully utilize REACH's suite of apps and integrations. This allows your business to get even more creative with your digital signage content. This article will detail all the benefits and features you can use when using REACH software on BrightSign digital signage players.
Don't have a provider and looking to try digital signage out yourself? Click here to sign up for a free 30-day trial!
Benefits of BrightSign Players
As detailed previously, the biggest benefit to using BrightSign is having a reliable method for enhancing communication and productivity. Digital signage methods increase productivity by ensuring everyone is on the same page when it comes to company events, announcements, and policies. This cuts down on staff confusion which in turn creates a more efficient working environment.
By opening better lines of communication with staff, you can in turn use digital signage apps that can give your employees a chance to express their voice as well. QR Codes can be scanned by employees that redirect them to company surveys, questionnaires and other links that give them a chance to speak their minds. This creates an environment where employees feel valued and a part of the team.
In addition, displaying KPI, production data metrics, and calendars will keep everyone informed on current performance. This allows staff to adjust their strategies on the fly and meet company goals. It also helps management identify key areas of improvement that will streamline their workflow. Establishing communication of this nature helps employees see their place in the workplace. Finally, through cloud-based management software and other integrations such as BSN.Cloud, you can easily manage your content and devices from any computer or laptop. So long as you have an internet connection, you will have complete access to all your assets.
Key Features of BrightSign Players
Brightsign players are known to be some of the most reliable players you can buy. That alone makes it a great fit for nearly any business. However, BrightSign's flexibility in its software allowing users to tailor their experience to their needs is where BrightSign really shines. Their players are designed to be reliable, user-friendly, and cost-effective.
Aside from that, BrightSign offers a variety of models that scale to the different needs of clients. Regardless, each model is ready for commercial grade use that can serve in retail, food service, corporate, and stadium environments.
REACH is a certified reseller of BrightSign players, so contact us today for more information!
Media Zones & Apps
Media zones are sections you build out within your signage that will present the content and apps you choose to include. Multiple slideshows, streams, videos, and other media can be displayed simultaneously. This opens a window of opportunity to display any type of content you want! For instance, safety procedures and warning can be used on manufacturing plants to keepin staff protected and on track. However, a corporate office may want to display human resource initiatives such as staff trainings and orientations. Regardless of your industry, digital signage has the tools you need to elevate you communication strategy.
About REACH
REACH acts as both a hardware and software provider for digital signage. When you partner with REACH, you join a network of industry professionals committed to your success. A strong belief in evolving technologies runs throughout the company, resulting in robust digital solutions. To begin your digital signage journey, click the button below to request a free demo from REACH today!