6 Unique Uses for BrightSign Players
6 Unique Uses for BrightSign Players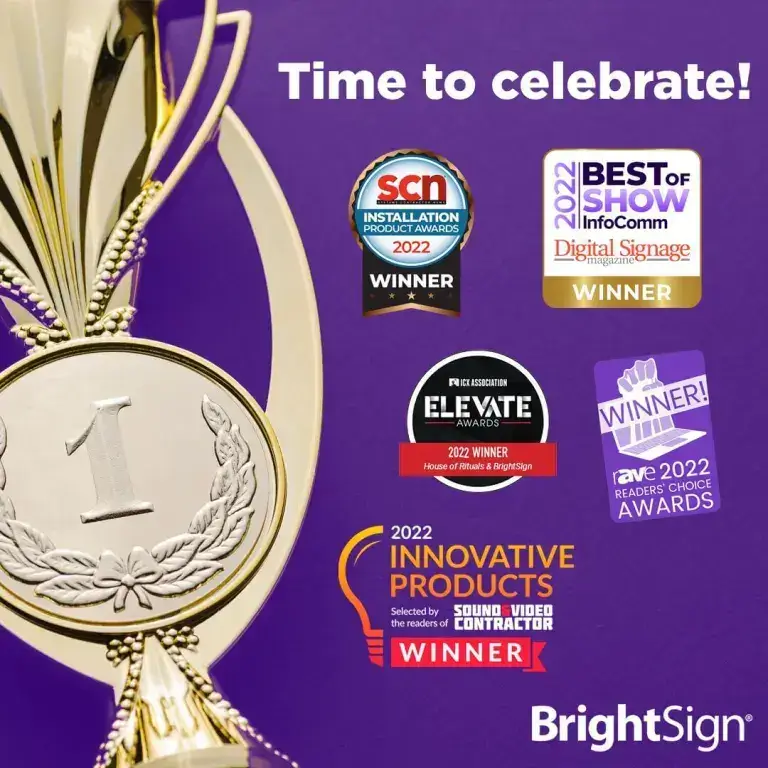 An Introduction to BrightSign
BrightSign players are devices used in digital signage that display content across one or more screens. Over the years, Brightsign has developed a reputation as some of the most reliable digital signage players on the market. If you want to guarantee that your content is displayed when you want, how you want, BrightSign is the device for you!
When paired with REACH's assortment of digital signage software, you can utilize a variety of advanced features. This will elevate your communication methods and strengthen relationships between your audience.
Looking to try digital signage out yourself? Click here to sign up!
#1. Live TV and Streaming
By connecting a cable box to your BrightSign device, you can live stream TV Channels to multiple screens at once. Providing avenues of entertainment can retain viewer attention as well as give them a reason to revisit your signage.
Other live streaming services can be utilized as well to stream events and web-based content. Services such as YouTube, or VLC and HLS connections can expand your streaming capabilities. With BrightSign players and a strong internet connection, you can even live stream content at a full HD resolution!
#2. iFrame and Custom HTML Displays
If your website hosts content, BrightSign players can use iFrames and custom HTML to pull it from the site and display it on your screens. Every BrightSign player can display simple web assets and graphics. Static web pages, landing pages, and other designs can be displayed from your site.
However, if you want more advanced features such as transitions, animations, and video to be streamed from your site, you'll need a more advanced BrightSign model. Regardless, there is a model that can meet your needs.
#3. Interactive Displays
Certain models of BrightSign players can also utilize interactive displays. Interactive displays are typically touchscreens that help users control a certain experience. For instance, a restaurant may use touchscreen kiosks to let customers input their orders themselves. This cuts down on wait times and gives the customer more control over their order. Alternatively, a hospital or office building may use it for interactive wayfinding to help people navigate their facilities. Not many players are compatible with interactive displays, and even less are as reliable as BrightSign.
#4. Video Walls
BrightSign players can stream one or more videos stretched across multiple screens. This is what is called a "video wall" and it is a great way to catch the eye of your audience. You can either make one large image for a bold approach or have different videos on each screen for more variety. However you decide to use your screens, BrightSign players will help you realize your vision.
#5. Custom Cloud Integration
Each purchase of a BrightSign player comes with a free BSN.Cloud software package that allows you to manage multiple devices, assets, and software from anywhere. However, you can also integrate with any content-management software, ensuring that the tools your familiar with can transfer over. This creates a user experience that can be tailored to your exact needs. As long as you have an internet connection, you can your entire media library and expand your storage.
#6. Seamless Remote Management
Due to its cloud integration and internet connectivity, BrightSign digital sigange players allow you to seamlessly manage your content from anywhere at any time. Users, content, assets, and social media profiles can be shared across facilities when paired with REACH's robust software. This means you can update your signage in real time, therefore cutting down on management time and cost while providing viewers an up to date messaging system.
About REACH
REACH acts as both a hardware and software provider for digital signage. When you partner with REACH, you join a network of industry professionals committed to your success. A strong belief in evolving technologies runs throughout the company, resulting in robust digital solutions. To begin your digital signage journey, click the button below to request a free demo from REACH today!