A Fully-Loaded Alternative to Arreya Digital Signage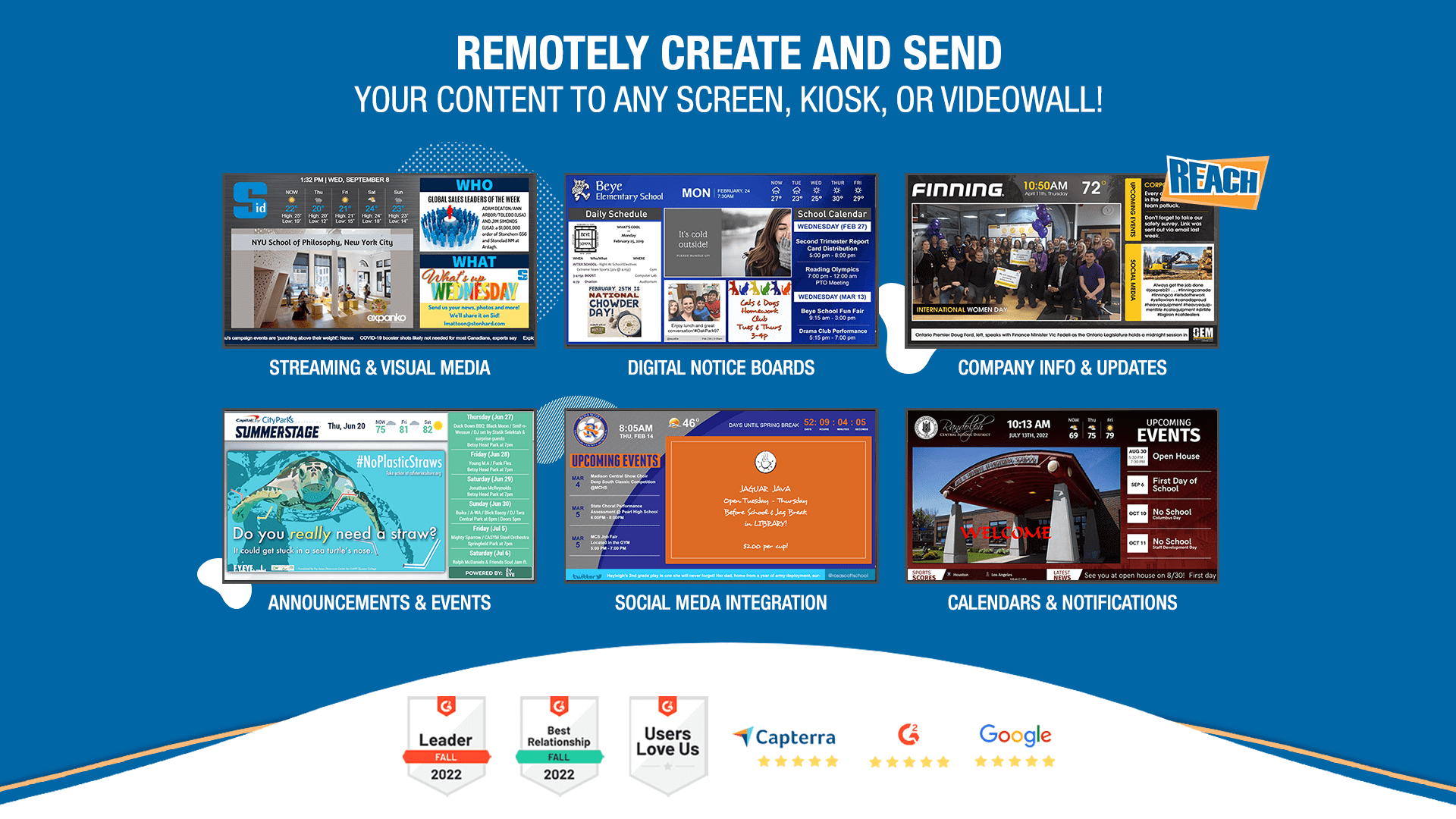 Looking for a versatile and user-friendly digital signage option that is an alternative to Arreya Digital Signage? If so, your search is over because you've found the best option possible. REACH Media Network has been in operation for over 17 years, during which time they have developed a robust and feature-rich digital signage system.
We now have an alternative to Arreya, a powerful and easily expandable digital signage software platform.
If you're looking for a specific use case, please check out our five most popular solutions:
Company Communications

Local Government Facility

Data Metric Dashboards

University Campus Digital Signage

Meeting Room Event Displays
Alternatives for Arreya Digital Signage Software
Schools, hospitals, and businesses can benefit from REACH Media Network's cloud-based screen content management solution. Whether you need a simple full-screen slideshow with scrolling tickers or a fully integrated communication dashboard, REACH can help you set it up and manage it swiftly.
A Simple-to-Use Digital Signage Program
Our web-based digital signage service makes it simple to make eye-catching multimedia presentations. Furthermore, with REACH, more than 157 apps and connections are available, making it easy to make updates consistent with the brand.
Videos, Photos, and Powerpoint Presentations

News feed sources in the Entertainment and Sports Industries

Updates on upcoming events and schedules

Traffic reports and real-time radar maps

Customized text tickers and HTML feeds

Emergency alerts takeovers of the screen

Real-time social media feeds from Twitter, Instagram, and Facebook

Photo and video streams
KPI and Metric Dashboards: An Effective Management Tool
When you use REACH, you can display live APIs, charts, and key performance indicators for your company. Combine your current systems (such as metrics dashboards, spreadsheets, tables, calendars, event listings, and so on). For example, digital signage may eliminate the requirement to update that spreadsheet manually. In addition, you can incorporate third-party applications such as Microsoft Office 365 (O365), point-of-sale (POS) data, and reports.
Hardware Options That Are Both Powerful and Adaptable
If you have a digital signage media player or are looking to buy one, REACH can help. If you need assistance deciding on digital signage or hardware, our experts are here to help. The digital signage players we provide are both dependable and user-friendly.
Because our software is built to work without an internet connection, the digital signage media player's cache will continue to function normally in the event of a network outage. If there is a blackout, you can still see the screen.
Interfaces for the control of large-scale digital signage
SSO is the best option if your digital sign network includes many users or locations (Single Sign On), allowing for quicker and more accessible user management.
With SSO and the IdP, your staff only needs to remember a single credential to access REACH. Access rights can be carefully regulated for SaaS apps hosted in the cloud. The use of REACH requires the use of SAML 2.0. The network hopes to attract significant identifier suppliers (Security Assertion Markup Language).
REACH works with SAML2 Identity Providers, including Shibboleth, OKTA, and ADFS. Microsoft's Azure Active Directory stands out compared to similar services due to its superior functionality (AAD). After we have implemented SAML2-based SSO, we will give the customer a persistent URL that they may use to access the REACH portal at any time. When the user selects this option, the REACH system will use the supplied credentials to initiate a single sign-on (SSO) mediated login (often an email address). Users can choose whether or not to take part. The parallels between REACH and LDAP-SAML2 are striking.
Conclusion
To evaluate if our solution meets your needs, we invite you to organize a demo or request a free 30-day trial if you consider converting from Arreya Digital Signage. Then, put our platform through its paces and see if it meets your demands by trying it out yourself.