The Best Alternative to Raydiant Digital Signage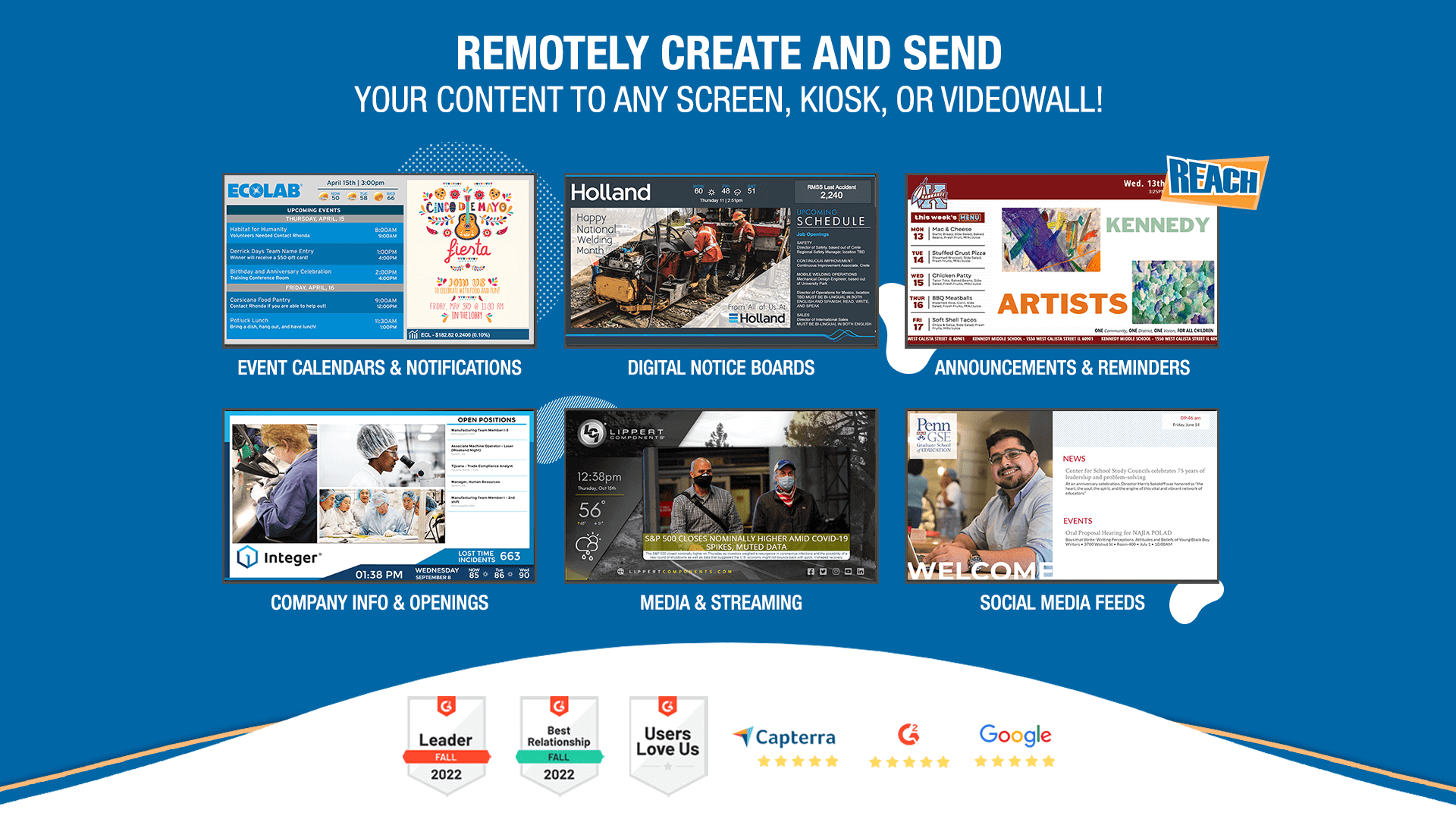 Alternatives to Raydiant Digital Signage
It's simple; you need powerful and reliable digital signage, in other words, an alternative to Raydiant Digital Signage! Well, you've come to the right place. We've been in business for over 15 years and are 100% independently owned.
This means we don't have a board of investors to report to, are in control of our product, and, most important, have a mature, robust digital signage software platform that is the perfect alternative to Raydiant Digital Signage.
If you're looking for a specific way to use digital signage, please check out the six most popular markets that we specialize in:
Digital Signage Software Alternative to Raydiant Digital Signage
We have the perfect alternative solution to Raydiant! Our cloud-based digital signage software from REACH allows you to easily use our complete dynamic design tools to create and manage your screen content. Our all-in-one tools will let you set up the perfect content and remotely send it to your screens.
Simple Yet Effective Digital Signage Apps
Regarding content creation, we have over 157 customizable digital signage apps included for FREE with REACH. Popular apps include:
Radar maps
Traffic reports and maps
Weather forecasts
Screen takeover notifications
Corporate metrics
Employee recognition
Quote of the day
Live TV
Custom HTML
National weather alerts
Spreadsheets and charts
Stock and Sports feeds
Media streams
Slideshows
RSS feeds
New tickers
Automate Content Delivery with Integrations
With REACH, you can quickly improve data dissemination by linking digital signage to your existing metrics dashboards, spreadsheets, tables, calendars, event listings, and other platforms from third-party applications. This type of digital signage integration will eliminate you from having to update a spreadsheet again manually!
We can synchronize and display your data and content to streamline and automatically display your company's APIs, charts, and key performance indicators in real time. O365, POS data, and reports are examples of connected 3rd party platforms that we can natively connect with!
Use Your Own Hardware
Whether you're looking for the greatest media player or already have one, REACH can help you! Because we are hardware-agnostic, you can install our software onto your existing device.
If you're in the market for new hardware or digital displays, REACH can provide expert guidance tailored to your needs and within your budget. In addition, we offer turnkey digital signage players that are easy to set up and reliable.
If the digital signage media player loses network connectivity, our software will display previously cached material. So, your worries about a black screen due to a power outage are over. Even in the worst circumstances, the REACH software will ensure that your screen displays something.
Perfect for Enterprise Digital Signage
Regarding multi-user, multi-location digital signage, we offer Single Sign On integration. This type of set-ups makes setting up and controlling your users easy and fast!
With SSO, users only need to remember one login credentials to access all of their cloud-based enterprise solutions that have been set up with the IdP. This makes it much easier for users to manage their access to multiple cloud-based enterprise solutions. Regarding compatibility, REACH has no issues with any primary identity providers because SAML 2.0 is required (Security Assertion Markup Language).
REACH is compatible with SAML2 Identity Providers such as ADFS, OKTA, and Shibboleth. Other options include Azure Active Directory (AAD). While we are finished When we finish configuring SAML2-based SSO, we will provide the customer with a unique URL that must be used when is required when logging onto the REACH platform. Users can also enter their username, typically their email address, and have the REACH system initiate SSO-mediated login on their behalf. This option is available to users. In addition to this, REACH possesses a SAML2 link with LDAP.
Conclusion
If you're not sold on why we're the best Raydiant Digital Signage Alternative, we encourage you to schedule a demo or register for a free 30-day trial. This will give you first-hand experience with our digital signage works and, more importantly, allow you to see if we check all the boxes!