How to Set Up a PowerBI Digital Signage Integration
In an effort to continuously update its software offerings, REACH Media Network has recently expanded its digital signage integrations thanks to seamless PowerBI digital signage integration. PowerBI is Microsoft's business analytics solution that lets you visualize your data and share insights across your entire organization by embedding them in interactive elements of an app or your website. Easily connect to hundreds of data sources and bring your data to life thanks to live dashboards and reports.
REACH has been hard at work over the past three months building a dedicated app on its signage platform to seamlessly integrate PowerBI analytics for clients. Since security has always been of paramount concern at REACH, we made sure to build a proprietary authentication engine for PowerBI that ensures client data will always be safe.
More than 100 REACH clients have already taken advantage of this new capability to better communicate key company data to employees. REACH has had a long-term relationship with Microsoft due to their popularity in the enterprise market and REACH is always looking for additional ways to leverage this relationship to provide a better digital signage product to partners around the world.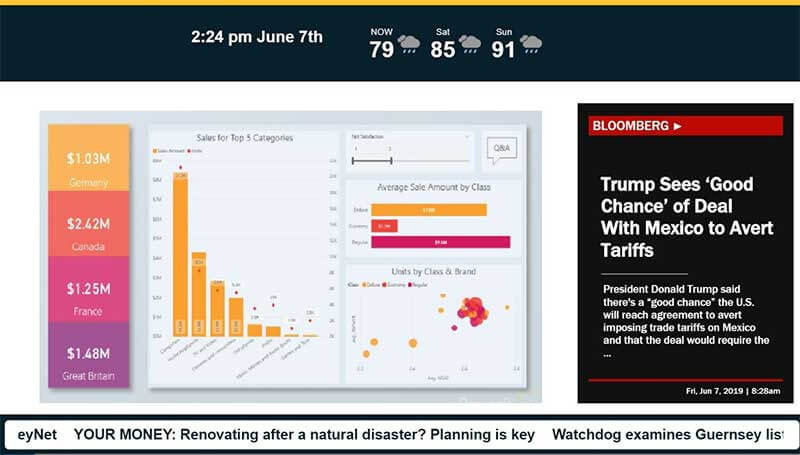 About REACH
Headquartered in Eden Prairie, Minnesota, REACH operates over 20,000 solutions worldwide with our growing 4,000+ partners. The partnership between REACH and the client is our main priority. This important relationship continues to evolve our robust, scalable and easy-to-use software based on our client's needs.
If you are interested in learning more about REACH's suite of digital signage, donor walls, tablet displays or mobile app, feel free to email info@reachmedianetwork.com or call 952-944-7727 ext. 200.