Corporate Communications Digital Signage for Internal Communications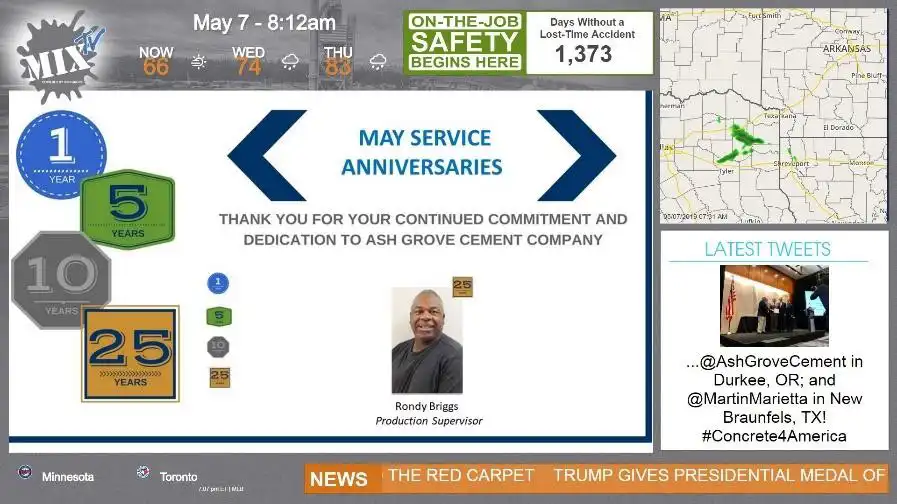 As a company grows it can be difficult to effectively communicate between departments, especially if you're dealing with multiple locations or facilities. One way to combat this breakdown in communication is with the use of corporate communications digital signage and hardware. At REACH Media Network, we offer cloud based digital signage software that can ensure content is quickly disseminated throughout your organization regardless of whether you have one facility or one hundred.
How Can Corporate Communications Digital Signage Foster Communication?
There are all sorts of ways that internal digital communications software can help to reduce bottlenecks and improve communication within your organization, including:
Countdown Functionality – Everyone loves to track a countdown. Whether it's showing "days since last accident" or the countdown to a big event, REACH offers a counter widget that can be used to draw attention to a certain milestone or event.
Live Traffic & Weather Maps – With REACH your digital signage is always connected to the internet, meaning that you can easily gain access to live traffic and weather maps to better educate your employees.
Company Announcements – Everyone likes to be recognized and what better way to do so than with digital signage. Post content related to companywide milestones or recognize employees that are going above and beyond in their job duties. This will encourage workers to do their best and in turn hopefully improve the culture within your organization.
Emergency Alerts – If you have a large facility, or if you have multiple facilities it can be vital to have a mechanism to disseminate information quickly and efficiently. With digital signage software from REACH you can quickly post content that can instantly be displayed on all of your digital signage devices regardless of location. You can even integrate your digital signage with emergency alert systems to ensure that everyone within your organization will know when an emergency arises.
Showcase Social Media Content – Do you sometimes feel that your company's social media content is falling on deaf ears? If so, it may be because your employees aren't aware that you're utilizing various social media platforms. Why not integrate your social media content into your digital signage so that it's always front and center whenever one of your employees comes in contact with one of your devices?
Reach Out to Learn More About Using Digital Signage to Foster Communication
If you're looking for an efficient way to foster internal communication within your growing organization, don't discount the effectiveness of digital signage. To learn more simply give our team a call today at 952-255-6296 or via email at info@reachmedianetwork.com. We'll show you how organizations of all sizes are using our technology to help grow their businesses and better communicate with their employees.