Hundreds of free digital signage software apps and widgets to choose from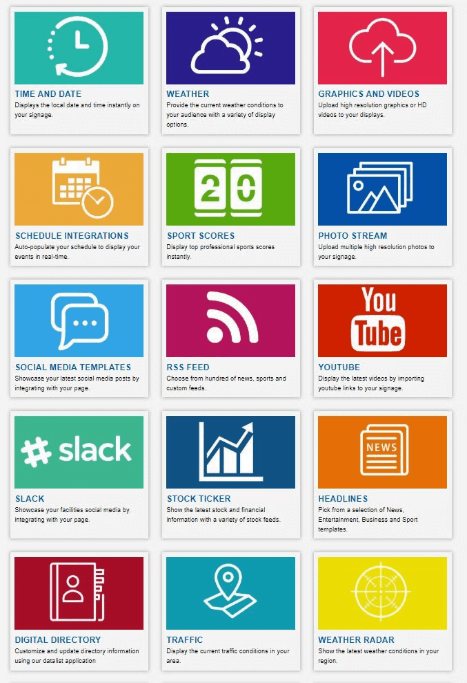 When you're looking for a digital signage provider, you're likely looking for a company that offers a whole host of features that will make creating content as easy and seamless as possible. What you may not realize is that many digital signage software companies try to lure you onto their platform only to charge you for additional digital signage software apps and widgets. At REACH Media Network, we have hundreds of free digital signage software apps and widgets to choose from, which allows you to better interact with your audience.
Don't Be Swayed by Free Digital Signage Apps and Widgets
Some digital signage software companies may claim that their software is completely free. The problem with this approach is that these companies often charge you hidden fees for "premium" access to even the most basic apps. At REACH, our business model is much different. We give our customers access to all our major apps to ensure you're able to take full advantage of your digital signage.
Wide Array of Free Digital Signage Apps
With REACH, you'll gain access to a wide array of free digital signage apps including:
Weather
Live Traffic Maps
Sports Scores
Licensed Content Updated Hourly
Many Others
No one Has a Bigger Selection of Free Digital Signage Apps
At REACH, we've worked for quite a long time to put together a wide array of different digital signage apps and widgets to meet the needs of our customers. While we already have all of the major apps available as mentioned above, if you don't see an app that will work for your needs, give us a call and we'll do our best to build it for you for FREE!
Contact REACH Media Network to Learn More About Our Free Digital Signage Apps & Widgets
If you're interested in learning more about the benefits of digital signage for your organization, don't hesitate to reach out to us soon. We've developed digital signage software that's used in a wide array of industries including healthcare, education, hospitality, corporate, government and many others. At REACH we're constantly adding new apps and widgets, all of which are absolutely free for our clients. Go ahead and give our team a call today at 952-255-6296 if you'd like to learn more about our digital signage software, or to learn more about our free digital signage apps.