The Clear Alternative to TelemetryTV Digital Signage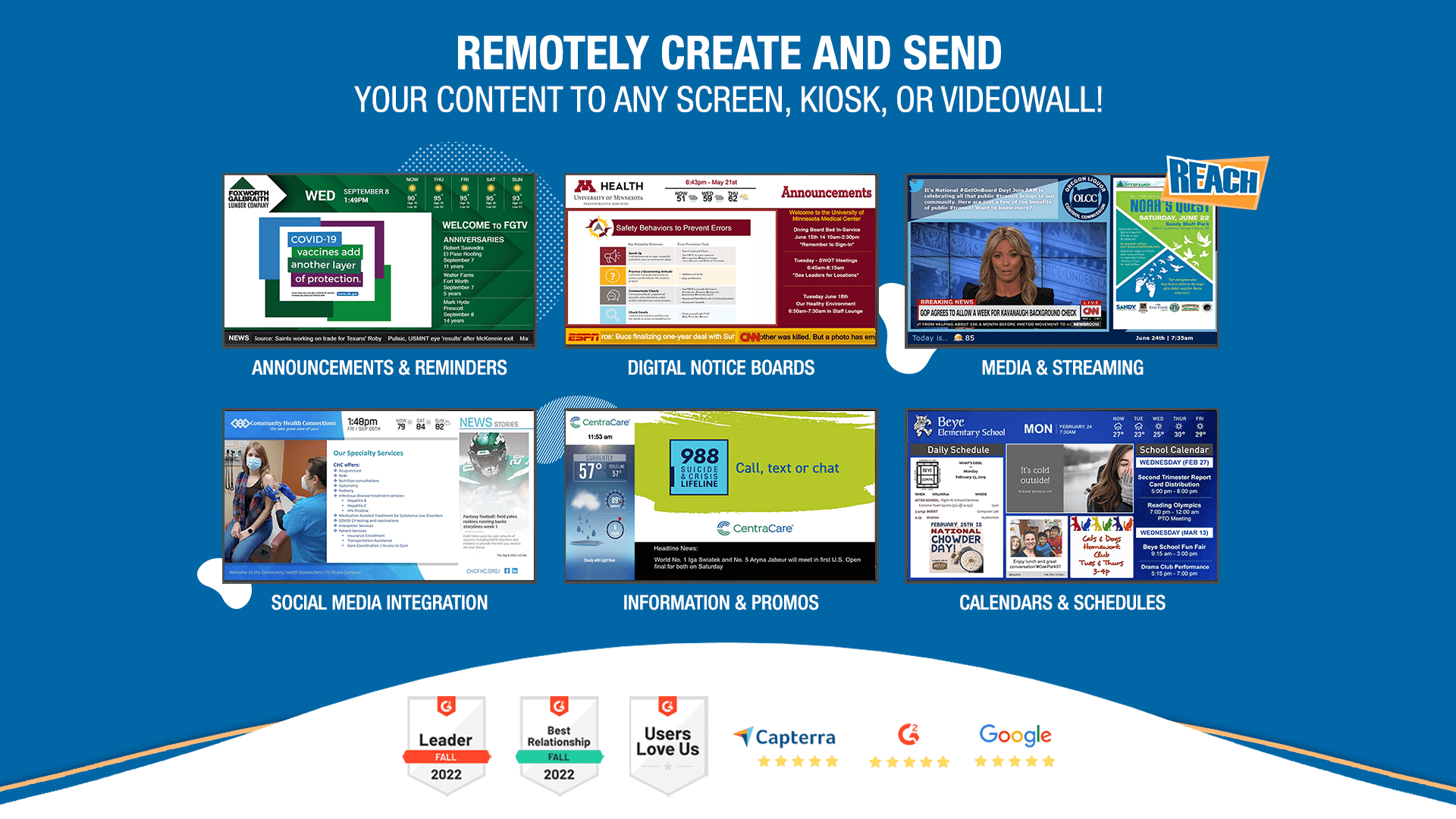 In search of a stable and robust alternative Telemetry TV that is adaptable and easy to use for digital signage? If yes, you can stop looking now; you've just come across the perfect solution. After being in business for more than 17 years, REACH Media Network has built a digital signage infrastructure that is feature rich and reliable.
We have a replacement for TelemetryTV Digital Signage, a popular and well-known digital signage software platform known for being dependable and scalable.
Do you need a specific solution? Check out our top five most popular markets that we serve:
Business and Internal Communications

Local Municipality and Government

Manufacturing Metric and KPI Dashboard

College Campus and University Signage

Corporate Meeting Room Event Signs
Alternative to TelemetryTV Digital Signage Software
REACH Media Network offers a cloud-based screen content management system that educational institutions can use in government, healthcare, and internal corporate communications. You may utilize REACH to quickly set up and manage your screen content, be it a basic full-screen slideshow with scrolling tickers or a fully integrated communication dashboard.
Digital Signage Software That Anyone Can Use
Utilizing our cloud-based digital signage solution, you can create captivating multimedia messages effortlessly. In addition, digital signage's plethora of versatile tools makes making brand-consistent updates a breeze: more than 157 apps and connections are available.
News Sources for Entertainment and Sports

Media streams, pictures, and PowerPoint presentations

Custom Updates With Rolling Text Tickers

Traffic Reports and Real-Time Radar Maps

Timetables and Calendar Updates for Upcoming Events

New posts on Instagram, Facebook, and Twitter

Warnings Displayed on Their Entire Screen Takeovers of the Screen

Real-Time Streaming Media

SharePoint and PowerBi
Instrumental Key Performance Indicator (KPI) and Metric Dashboards
REACH enables the live presentation of your business's APIs, charts, and KPIs. Join together your existing infrastructure (such as metrics dashboards, spreadsheets, tables, calendars, event listings, and so on). With digital signs, for instance, you wouldn't need to update that spreadsheet manually. Microsoft Office 365 (O365), POS data, and reports are all examples of third-party programs that can be integrated.
Durable Yet Flexible Hardware Choices
REACH can assist you if you own a digital signage media player or want to make a purchase. If you need assistance deciding on digital signs or hardware, our staff is here to help. In addition, our digital signage players are dependable and straightforward to install.
The digital signage media player's cache will remain operational even if the network goes down because our software is designed to function offline. It's not a problem if the power goes off because you can still view the display.
Large-scale enterprise-ready digital signage management
If your digital sign network has numerous users or locations, then SSO is the way to go (Single Sign On). Because of this, user management is simplified and expedited.
Thanks to SSO and the IdP, employees need only remember a single set of credentials to log in to REACH. Access permissions can be strictly enforced for cloud-hosted SaaS applications. It is only possible to utilize REACH with SAML 2.0. Major identification providers are encouraged to join the network (Security Assertion Markup Language).
REACH is compatible with SAML2 Identity Providers, including Shibboleth, OKTA, and ADFS. Microsoft's Azure Active Directory stands out from the crowd because it offers features that rival or are beyond those of competing services (AAD). When we've finished setting up SAML2-based SSO, we'll provide the client with a permanent URL they may use to access the REACH portal whenever they choose. The REACH system will use the supplied credentials to perform a single sign-on (SSO) mediated login when the user selects this option (often an email address). Users have the option of participating. It's easy to see the connection between REACH and LDAP-SAML2.
Conclusion
If you want to switch from Telemetry TV Digital Signage, we encourage you to schedule a demo or request a free 30-day trial to see if our solution fits your needs. This will allow you to test our platform for yourself and give you a better idea of whether or not we are a good fit for your needs.