The Perfect Alternative to Signagelive Digital Signage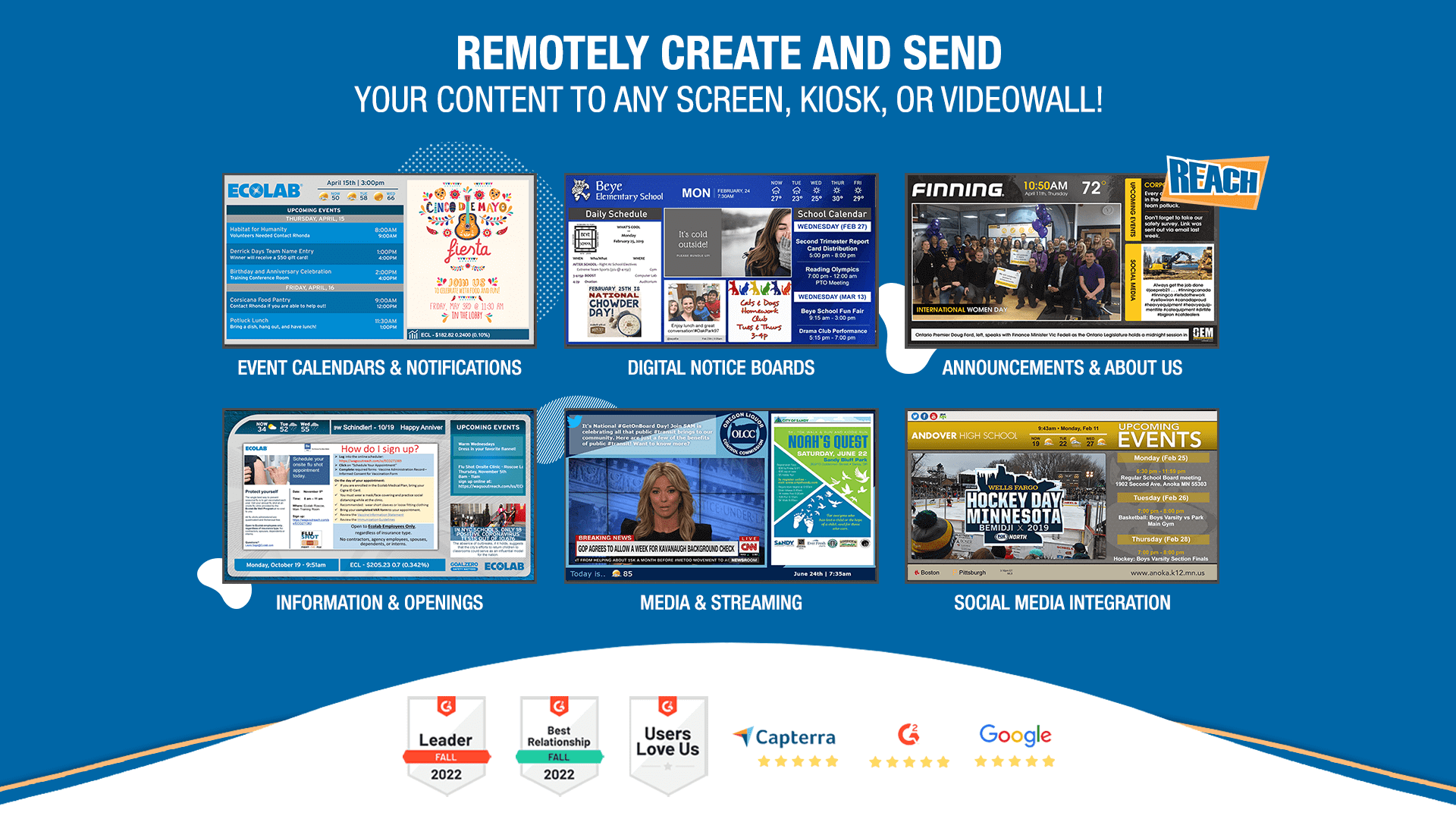 Are you looking for a digital signage solution similar to Signagelive Digital Signage in terms of customization and user-friendliness? You've found the best answer if that's the case. REACH Media Network has been in operation for 17 years, during which time they have developed robust and customizable digital signage technology.
If you need a specific solution, please take a look at our specially designed use cases:
Alternative Options to Signagelive Signage Software
Organizations of all sizes, from hospitals to universities to corporate headquarters, can take advantage of REACH Media Network's cloud-based screen content management solution. REACH makes it easy to build and administer from a simple full-screen slideshow with scrolling tickers to a sophisticated, integrated communication dashboard.
Easy-to-Use Digital Signage Program
Our cloud-based digital signage platform makes creating eye-catching multimedia presentations on the internet simple. More than 157 apps and links are at your disposal through REACH, easing the process of making enhancements that are in keeping with your brand's image.
Multimedia Presentations, Images, Videos, Slideshows

Trending Stories in Entertainment and Sports

Playlist scheduling and other event details

Actual traffic reports and updated radar maps

Text tickers and interactive HTML feeds

Alerts in Case of Emergencies

Facebook, Instagram, and Twitter
Display KPIs and other Metrics of Importance
You may use REACH to make live graphs of key performance indicators (KPIs), charts, and APIs. Combining your current strategies (such as metrics dashboards, spreadsheets, tables, calendars, event listings, and so on). With digital signs, for instance, you would be OK with keeping the spreadsheet up-to-date by hand. Integration with third-party apps, including Microsoft Office 365 (O365), point-of-sale (POS) data, and reporting, is possible.
Hardware Options That Thrive in Both Performance and Flexibility
If you currently use or are considering purchasing a digital signage media player, REACH can help. If you need assistance choosing digital signage or hardware, our expert staff can help. Every digital signage player we provide is reliable and user-friendly.
Our software is built to function independently of the internet, allowing the digital signage media player's cache to keep running even if the network goes down. Because of this, the display can be viewed even when the power goes out.
Management of Digital Signage Users at the Enterprise Level
If your digital signage network has many users or locations, single sign-on (SSO) is the way to go because it streamlines the process of adding and removing users.
Thanks to SSO and the IdP, your staff can utilize REACH with just a single login. Access to cloud-based SaaS applications can be carefully managed. All REACH functionality requires SAML 2.0. The network intends to establish ties with key identification providers (Security Assertion Markup Language).
REACH works with Shibboleth, OKTA, and ADFS because it is a SAML2 Identity Provider. Due to its superior functionality, Microsoft's Azure Active Directory is head and shoulders above the competition (AAD). When SAML2-based SSO is live, we'll give the client an always-active connection to the REACH portal. When this option is selected within the REACH system, the user's credentials will initiate a mediated single sign-on (SSO) session (often an email address). Everyone who uses the service can take part in it. LDAP-SAML2 and REACH share a lot of common ground.
Conclusion
Contact us for a demo or a free 30-day trial if you're considering switching from Signagelive Digital Signage to see whether our solution meets your needs. After that, give our method a shot to see if it lives up to your standards.