A Reliable Power Packed Alternative to Rise Vision Digital Signage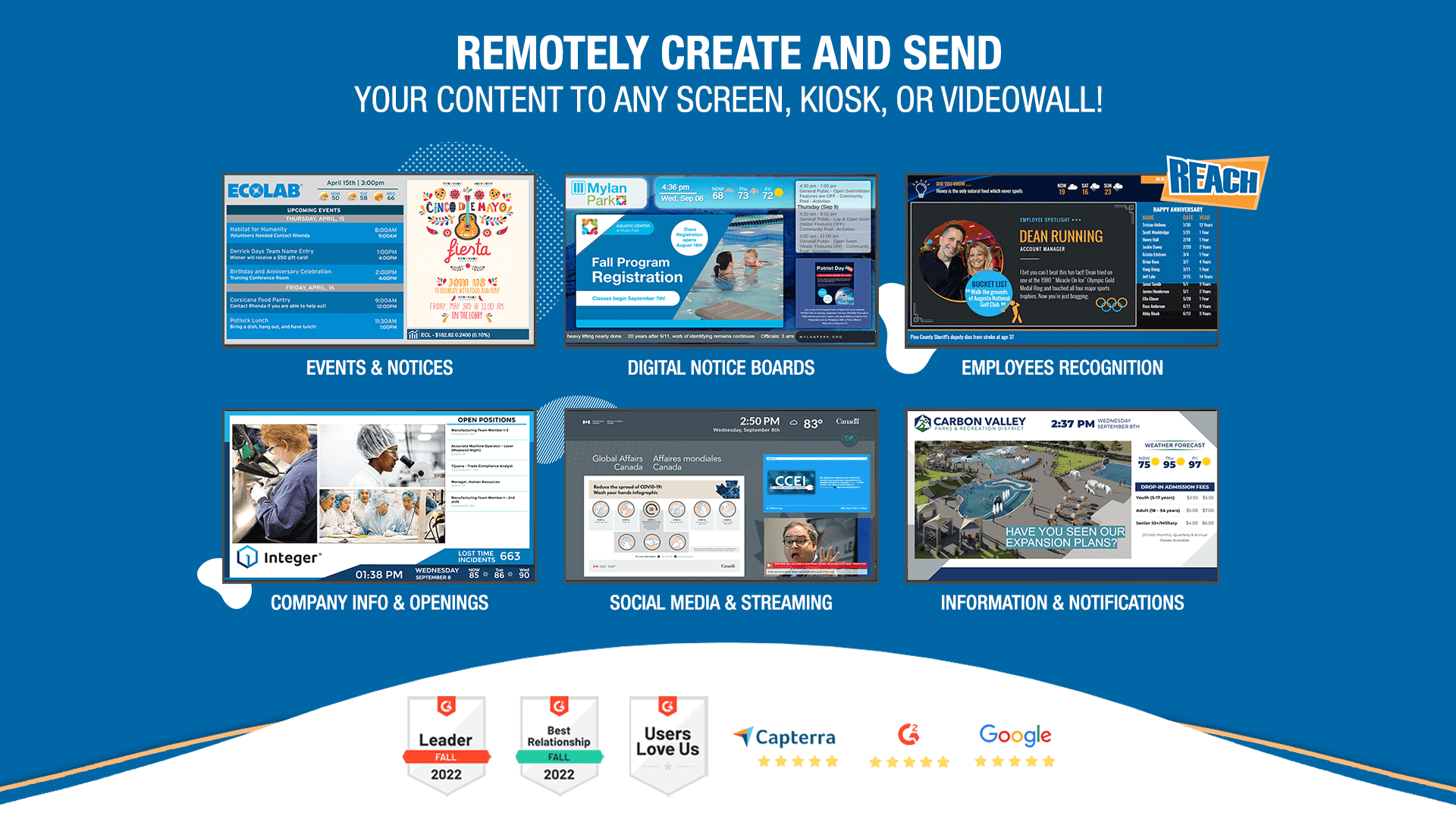 Look no further if you're looking for a reliable and feature-rich alternative to Rise Vision Digital Signage. Well, if that's the case, you've found an excellent substitute for Rise Vision. After 17 years in the industry, REACH Media Network has developed a digital signage platform that is both flexible and powerful.
If you're looking for a specialized solution, please take a look at one of use-case specific applications:
Similar Products to Rise Vision Digital Signage
REACH Media Network provides cloud-based digital signage software for many clients, including businesses, hospitals, bookstores, and educational institutions. In a few minutes, you can build and administer anything from a simple full-screen presentation with scrolling tickers to a sophisticated, integrated communication dashboard using REACH.
Digital Signage That's Simple to Set Up
Our web-based technology makes it easy to create eye-catching multimedia billboards, sometimes known as "digital signage," which is quickly gaining popularity. With REACH's access to more than 157 apps and integrations, deploying brand-consistent enhancements is a breeze.
Media, images, videos, and slideshow

Breaking News and sports tickers

Updates on the schedule and other event details

Current traffic updates and real-time radar maps

RSS and other specialized HTML feeds

Power BI with SharePoint

Social media platforms like Twitter, Instagram, and Facebook
Dashboards for Key Performance Metrics and Indicators: Effective Management Resources
You can showcase your company's real-time APIs, infographics, and KPIs with REACH. As a result, reduce the number of separate systems you use (such as metrics dashboards, spreadsheets, tables, calendars, event listings, and so on). For example, digital displays could replace the requirement for constant spreadsheet updates. In addition, POS data and reports can be integrated with third-party applications like Microsoft Office 365 (O365).
Use Your Existing Hardware
Any existing hardware can be used with REACH, or our expert staff will assist you in choosing appropriate digital signs and hardware. Also, the digital signage players we provide are dependable and trustworthy.
Our software is built with the assumption that there will be times when the network is down, but the digital signage media player itself is still operational. As a result, the screen will still be readable even if the power goes out.
Administration of digital displays at the corporate level
Single Sign On (SSO) is the way to go if your digital sign network has a lot of users or locations, as it simplifies the process of adding and removing users.
With SSO and the IdP, your staff only needs to remember a single credential to access REACH. Unlike on-premises software, cloud-based SaaS apps can have stringent access controls enforced. Those without SAML 2.0 won't be able to use REACH. Organizers of the network anticipate many id-card companies signing up for the service (Security Assertion Markup Language).
Several SAML2 Identity Providers, including Shibboleth, OKTA, and ADFS, are compatible with REACH. Microsoft's Azure Active Directory is head and shoulders above the competition thanks to its many useful advanced features (AAD). Following the activation of SAML2-based SSO, we will supply the client with a persistent URL through which they can access the REACH portal at their convenience. The user's credentials will initiate a mediated single sign-on session with the REACH system if they want this (often an email address). Anyone who uses the service can opt-in if they want to. REACH is very similar to LDAP-SAML2 in many respects.
Conclusion
Before jumping from Rise Vision Digital Signage to our platform, we recommend scheduling a demo or requesting a free 30-day trial to ensure it meets your requirements. Then, give our service a shot and judge for yourself whether or not it meets your needs.